Kicking out crime: Using martial arts to empower young Albanians.
As part of our series of conversations with inspiring CSO representatives who are strengthening local resilience to organized crime in the Western Balkans, we talk to Elion Puka, martial arts master and head of the Vllaznia tae kwon do club in Shkodra, Albania.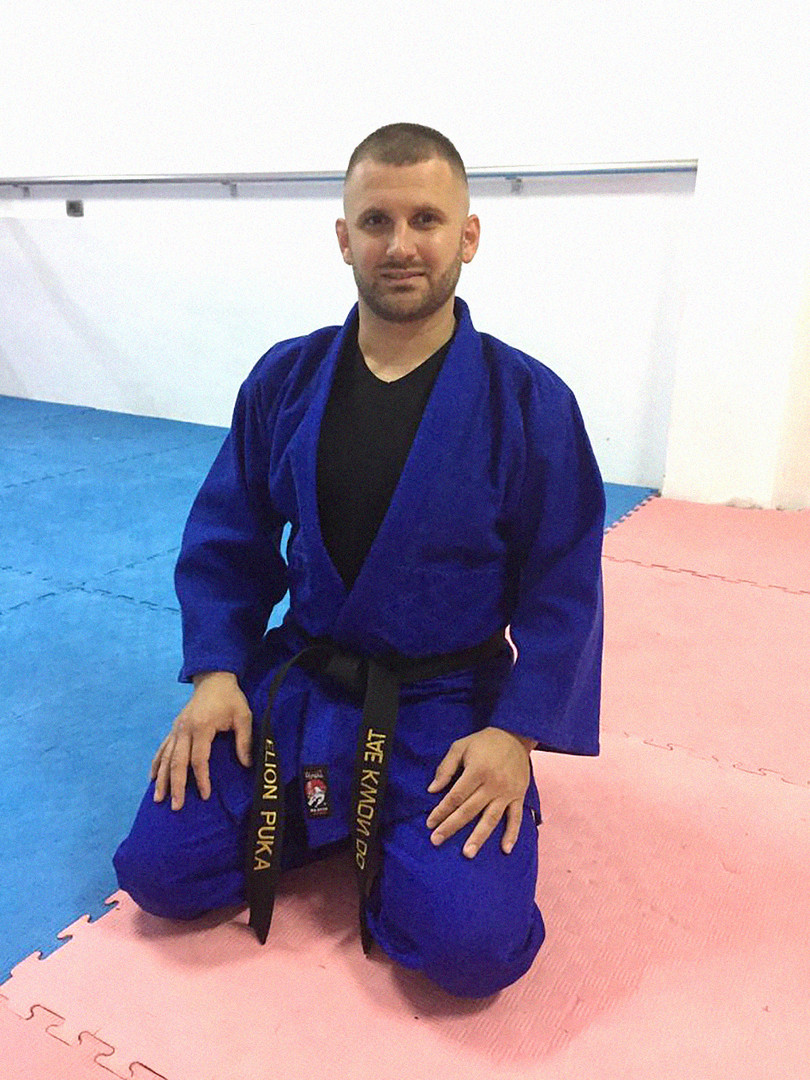 What inspired you to open the club and focus on youth?
The youth were who inspired me to open a martial arts club in Shkodra. I started taking tae kwon do lessons in 2000. After three years, I emigrated to Italy, where I continued to practice the sport. Every time I went back home, young people asked me enthusiastically about learning this sport. The conditions at that time were poor, so I found a free space outdoors where I could organize a small group of young people and teach my first classes. They asked me to demonstrate techniques and practice with them. They were eager to learn something new. Every time I went back to Italy, I had the feeling that I should return to my city and open a martial arts club for young people. After years of practice, my coaches in Italy told me that I was ready to open a club of my own.
Why are young people motivated to join the club? What is their background?
Club members come from a variety of backgrounds and have different motivations. Some come because they have friends in the club who encourage them to join. Others see martial arts on television and want to try it. The social background of our members is diverse: some are from rich families, some are middle class and others are from less advantaged backgrounds. We also have young people from the Roma community. We treat all members equally and try to integrate them. We are very happy to have such a diverse membership that reflects the Shkodra community.
Are some young people in the area particularly vulnerable to organized crime?
I think the main reason why some young people exhibit deviant behaviour is the poor level of education. There is also a lack of job opportunities. A growing number of youth are moving towards violence and organized crime. This is not only hurting the reputation of our city, but is also harming the identity of our youth. As a society, we need to invest more in education, including sports. Young people need more opportunities for social, cultural and sport activities.
What role does sport – and clubs like yours – play in providing young people with alternatives to crime? What is the importance of sport in a young person's life?
Practicing sport helps young people discharge negative energy and keeps them away from dangers like crime and violence. As a club, we distance ourselves and our members from any kind of criminal activity. Our club has made it clear to each member that we believe in hard and honest work. This approach has helped our students to nurture virtues and share those in the community. We also encourage them to look for positive role models in society, and to be good models themselves.
Do you approach the training of young men and women differently?
We treat our female and male members equally. It has been great to see a growing number of girls join our club and doing very well. A lot of credit goes to my wife, who is also a coach and co-founder of the club. Her example challenged the male-dominated mentality of martial arts in our city. Beyond being a great athlete and coach, her presence brings a lot of positive energy to the club. Thanks to her, the number of girls in the club is growing and we have many success stories.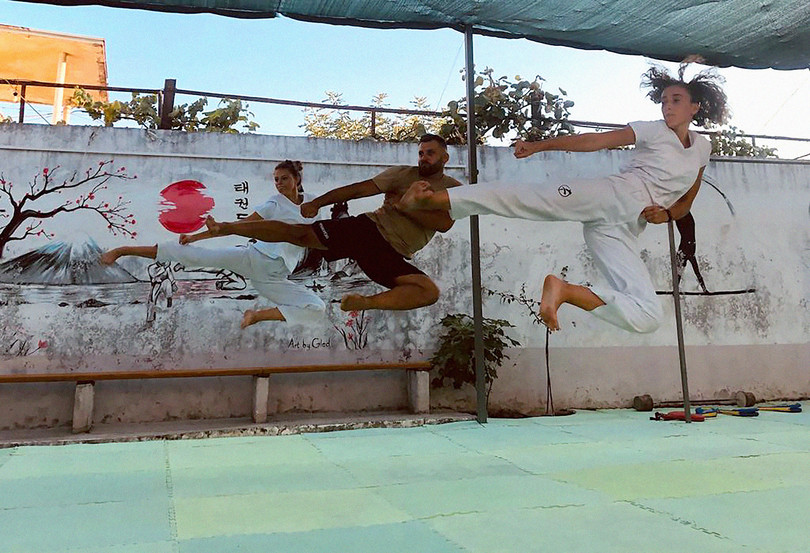 How do you raise awareness about organized crime through your training?
We take care of every individual who wants to train at our club; we try to understand their thinking and their training goals. We explain the benefits of sport and the dangers of abuse – for example, using their skills in an unethical or illegal way. Fortunately, so far we have not had any cases where our sport has been weaponized or misused for criminal purposes. On the contrary, martial arts tend to strengthen self-discipline.
Do you ever worry that by training young men in martial arts they may simply become better fighters on the street?
Some people who have approached our club were hyperactive and had behavioural problems. Such difficult individuals require special attention because they are easily exposed to violence, and they can do harm if they are not trained professionally. In such cases – and there have only been a few – we have succeeded in channelling their energy through dialogue and one-on-one coaching. In rare cases, people have quit the club. But most stay, and we work with them to discuss their problems, give them a safe space to train and stress the importance of ethics, discipline and hard work. Bringing about a positive change in such difficult cases can create good examples in society.
What are the challenges you face in dealing with young members of your club and how do you overcome them?
Our main challenge is to instil zero tolerance to violence and organized crime. This is why we applied to the GI-TOC's Resilience Fund. We communicate constantly with our club members so that they build a good character and we try to inspire and motivate them with positive role models. We also challenge them to bring us concrete examples of their contributions to society, especially at school. We encourage them to work hard to achieve good results in sports and at school, and to become constructive citizens in society.
How do your trainers include messages about empowerment and staying away from drugs and crime into what is, after all, a sports class?
When explaining a technique or move, we also convey important messages on how to keep their body in shape and we make them aware of things that harm the body and mind. That said, this is an area where we could benefit from more training. We also try to strengthen team spirit, both among our coaches and students. Our approach is to promote a combination of discipline and harmony; together, they can create a positive vibe in the team, empower young people and change the behaviour of problematic youth.
Do public institutions support using sports as a way of keeping young people away from crime?
Cooperation with public institutions has been poor but is improving. On our own initiative, we have often organized groups of athletes and conducted open-air demonstrations to promote sport to youths during national holidays. Unfortunately, before the Resilience Fund, we were never approached by local authorities to cooperate on promoting positive role models in society. With this project we have progressed and cooperation is increasing.
What opportunities have been enabled by your work with the Resilience Fund?
This project has given us the opportunity to build the capacity of our coaches in managing young people who are exposed to organized crime. In cooperation with different experts, we will be organizing special training for our coaches on the risks posed by organized crime to youth, as well as on teaching and communication skills to manage young people with behavioural issues. In addition, through this project we are taking the initiative to approach local institutions with the goal of establishing long-term cooperation in promoting positive models to youth and informing them about the threats posed by organized crime.
We are signing memoranda of cooperation with high schools in local hotspots of crime to provide free classes to promote sport and positive role models in society. We also have plans to expand our outreach by organizing an open competition for youth from all over the country where messages against crime and violence will be delivered by celebrities.