Synthetic drugs in the Western Balkans
The Western Balkans is often labelled as a transit region for the trafficking of drugs like cannabis, cocaine and heroin. But there are signs that the region is also a producer of synthetic drugs, as well as a growing consumer market.
The main synthetic drugs being smuggled into the Western Balkans are amphetamines, methamphetamine and ecstasy (MDMA), as well as new synthetic versions of cannabis and opioids like heroin. The main source of the drugs are countries in Western Europe, particularly the Netherlands, Belgium, the Czech Republic and Bulgaria.1 In Serbia, there is also a growing tendency to import synthetic drugs from the Baltic countries2 and Eurasia, including Afghanistan, Iran, Kyrgyzstan, Pakistan and Uzbekistan.3
In addition, local production appears to be increasing, particularly in North Macedonia and Serbia. Between 2009 and 2019, police in Serbia uncovered over 140 illicit drug laboratories, mostly on residential premises.4 The majority of the main labs in Serbia are in the Belgrade suburbs or in Nis.5 One of the biggest discoveries was in 2003 in the small town of Stara Pazova (in the northern province of Vojvodina), where police found around 2 million ecstasy tablets valued at over €4 million, as well as approximately 20 tonnes of acid for ecstasy production, estimated to be worth over €10 million. Nevertheless, only 245 people were convicted – an average of less than two people per illegal laboratory uncovered.6 This suggests that the police are only catching the 'cooks' and not all of those involved in the production and distribution networks.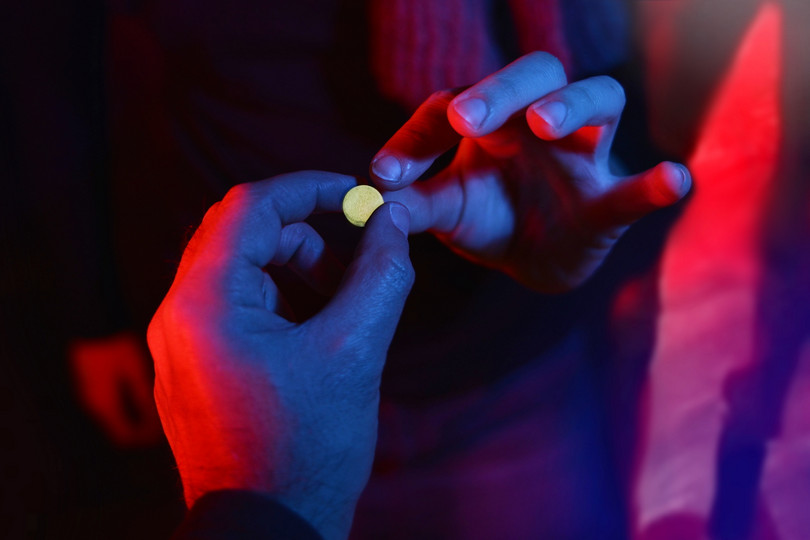 In 2020, most seizures of synthetic drugs in Serbia were made either in Belgrade and Novi Sad or close to the border with Hungary, for example at the Horgos border crossing point. Seizures were also made in Kragujevac and Bor.7
The problem is not limited to Serbia. In December 2017, police discovered illegal drug labs in the village of Batinci and in a home near Tetovo in North Macedonia.8 They seized around 910 000 Captagon tablets, 52 kilograms of pure amphetamine and large quantities of substances used for narcotics production. The main suspect, Milan Zarubica, had previously been convicted in relation to a lab in Stara Pazova, Serbia. A few months later, Macedonian police found yet another laboratory used to illegally manufacture synthetic drugs.
In addition to trafficking and production, there seems to be a growing local market for synthetic drugs.9 New psychoactive substances – mostly synthetic cannabinoids – which mimic traditional illicit drugs like cannabis, cocaine, MDMA and LSD are emerging in Serbia.
In Serbia and North Macedonia, prices for synthetic drugs are relatively low, which is a major factor in their increasing market share compared to plant-based drugs.10 It is possible to buy five ecstasy pills for around €25.11 That said, there are also substances like the amphetamine Tucibi (2C-B) which is known as an 'elite drug' because of its high cost and strong psychedelic effects. The drug is usually sold on the black market in the form of pills or capsules, but can also be mixed with ecstasy.12 In 2019, police in Nis arrested a person in possession of almost 175 grams of Tucibi.13
Synthetic drugs are easily accessible, particularly in large cities.14 'The market in Serbia is well supplied with amphetamine, ecstasy and MDMA,' said someone with knowledge of the situation on the streets. Methamphetamine is less present in Serbia.15 Still, marijuana and heroin are the most widely-used drugs in Serbia, followed by speed.16
It is unclear how COVID-19 has affected the synthetic drug market in the Western Balkans, but there is a sense that the market is relatively resilient, with some synthetic drugs being used as a substitute for heroin.17 Users are turning to the Internet to access suppliers since they cannot meet dealers in clubs or at festivals like in the past.18
Although heroin remains the main cause of the approximately 50 drug-related deaths in Serbia every year,19 increased access to and use of synthetic drugs have heightened health concerns in the country and led to the tragic drug-related deaths of young people. After a 15-year-old girl died in November 2018 in the small town of Arandjelovac after taking ecstasy for the first time at a party, locals organized a series of protests calling for better prevention measures.20 In neighbouring Lazarevac, residents put up posters around the city with photos of local drug dealers. In 2018, four young people aged 17 to 21 died after taking ecstasy, while between 2009 and 2019 more than fifty people died in the country from different synthetic drugs.21
While the focus on drugs in the Western Balkans has usually been on the transit of plant-based substances like cocaine, heroin and cannabis, it is also important to keep an eye on the production and use of synthetic drugs.
Notes