Under the gun: Investigative reporting in Montenegro.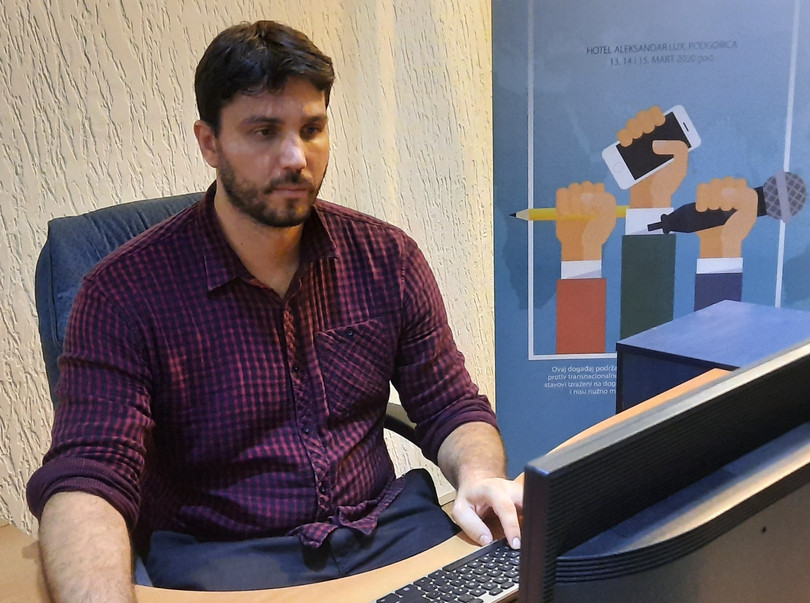 Vladimir Otašević, award-winning investigative journalist in Montenegro and editor of the crime and corruption reporting network LUPA, explains why being a journalist investigating crime and corruption in Montenegro is a risky business.
How would you describe the media landscape in Montenegro? What is the role of public and independent media outlets, and those supported by international donors?
The media landscape in Montenegro is highly polarized. The media outlets are divided between those that support the outgoing government and those that try to do their job in a professional way. The latter have higher readerships, and enjoy financial support from the international community. However, independent media houses are struggling with low revenue streams. In this country, the influence of government has been so powerful that companies, many of which are connected with the state, do not want to place their advertising spend with media outlets that are critical of those in power. Journalists are also poorly paid, making it difficult for them to earn a decent living. The average salary for a journalist is a paltry 500 euros a month.
The public broadcaster in Montenegro has, for decades, been controlled by the ruling political group. In fact, it would be more appropriate to call it a party broadcaster. Its lack of objectivity has been noted by NGOs lobbying for freedom of the media and in international reports. We all agree that it is far from what the citizens of this country deserve from a public broadcaster.
To what extent are journalists in Montenegro independent in their reporting?
Generally speaking, journalists in Montenegro, especially those who work for the pro-government media, are strongly influenced by the political regime. And in the independent media there is sometimes pressure from the big advertisers. Lack of media freedom here is a big problem, as evidenced by the numerous attacks on journalists for speaking the truth. In the last 18 years, there have been 70 reported attacks on journalists in Montenegro, including one murder.
What kinds of stories does LUPA cover?
We publish stories mainly about organized crime and the involvement of politics in criminal markets. Our stories also cover corruption and abuse of power by public officials. We also focus on issues related to poverty and social injustice in Montenegro. All investigative journalism is of interest to us, but our main focus is to shine a light on the connection between organized crime and political elites in this country.
Last summer, we published a piece about how property owned by the President of the Parliament of Montenegro – whose party has been ruling the country for decades – was sold as part of a corruption deal. In the story, we also uncovered money-laundering activity. As a result of this story, the public prosecuting authority launched an investigation into the President of the Parliament's assets and the transactions around the property sale.
What are the main challenges that LUPA faces?
Our primary concern is security because we write about some of the most powerful and dangerous people in the country. We try to mitigate the risks by using security applications on our mobile phones and devices. We suspect that we are under surveillance by the Montenegrin national security agency. Here, it is not unusual to draw this kind of attention – after all, it is alleged that even foreign diplomats face the same treatment. Another challenge is the need for sustainable financial support.
What are the main risks that journalists in Montenegro face when they investigate issues related to organized crime and corruption?
To give you one stark example, 16 years ago Dusko Jovanovic, the editor of Dan newspaper, was killed in a drive-by shooting. The incident is still a chilling reminder to this day for journalists of the risks they face. In 2018, Olivera Lakic, a journalist from Vijesti newspaper was shot, but luckily survived. These and many other incidents that have occurred in this country, such as the death threat that I received in 2017 from the outgoing prime minister's brother, are daily reminders of the real dangers faced by journalists who investigate organized crime and corruption in Montenegro.
Smuggling of cigarettes and weapons, and drug trafficking are some of the most dangerous topics that you can cover as a journalist. People fear for their lives. And you put not only your own life at risk, but also those of people near to you. Take the example of Olivera Lakic. Before she was shot, she received threats that her daughter would be raped. This happened after she had written a series of investigative pieces about cigarette smuggling in Montenegro. Under these kinds of conditions, families, understandably, often try to deter journalists from their work.
What can be done to change the situation?
There could be a major breakthrough with the new government in Montenegro. Montenegro is the only country in Europe that has had the same government since the fall of the Berlin Wall – the same people in power for three decades. The closer the connections between organized crime and people in decision-making positions in the state, the stronger the roots of organized crime grow and the harder it is to fight it. In countries where democracy is strong, organized crime is weaker. After 30 years of one-party rule, a strong democracy is unfortunately far from the case in Montenegro.
We hope that the new government is going to change the situation for good, and allow freedom of the media and a better environment for journalists. We also hope that the new government will take concrete steps to fight corruption. We expect transparency about the deals of the previous government and any new agreements that this new government enters into. Transparency is an important concern for journalists, as it has been so lacking for so long. For example, the outgoing government considers budget expenses to be a secret. This has got to end. Moreover, we really hope that this new government will amend the law on freedom of information, so that we can have greater access to state information.
We also look forward to reforms of the justice system. We would like to see the case of Dusko Jovanovic reopened, along with other unsolved cases in which violence has been deployed against journalists. This way, journalists would feel more supported and secure, and it might act as a deterrent against future intimidatory incidents of this nature.
What steps could help to build resilience to organized crime in Montenegro, and more generally the Western Balkans?
An important first step is to have a better, more transparent government. The economic and social situation also needs to be improved with a drive for lower unemployment and better job prospects. It's very important to give communities affected by crime and corruption better economic and social opportunities, in order to avoid situations where poverty and lack of alternatives drive people into organized crime.
It is also vital that state law-enforcement bodies in Montenegro, such as the police and the prosecution service, tackle the criminal clans from Kotor that have been engaged in a bloody conflict since 2014. The failure to bring criminal prosecutions has led to the enormous enrichment of these two criminal groups and their collaborators. This should not have happened: such criminal groups should have been taken down at the very beginning, but there was clearly no political will on the part of the authorities. Perhaps a new government can tackle the problem more vigorously, with new brave people, political will and the necessary resources.
As journalists, we are going to follow closely the efforts of the new government and we will always be critical when things go wrong. It is important that the new government works in the best interests of the citizens of the country. If they don't, we will go after them. That is the job of the journalist.
The crime and corruption reporting network – LUPA – is a non-profit organization promoting and developing investigative journalism in Montenegro. It was founded in 2016 by a group of independent journalists. One of the main areas of LUPA's work is researching and reporting on organized crime and corruption in Montenegro and abroad. Specific objectives of LUPA are assisting citizens and government bodies in the fight against organized crime; the promotion and protection of human rights; monitoring the work of government institutions; promoting regional cooperation among media and groups that advocate for anti-corruption and fight against organized crime. Since 2019, LUPA has been supported by the GI-TOC Resilience Fund.