Cash comes home for the holidays.
Between June and August this year, police in Albania seized several hundred thousand euros in cash at key border crossings and the airport in Tirana. This is the tip of an iceberg of millions of euros worth of cash that is smuggled into Albania every year, and symptomatic of the importance of illicit cash transfers in the Western Balkans.
While border controls in the region usually focus on intercepting and seizing illicit tobacco, drugs and other counterfeit products, less attention is paid to the smug­gling of cash. Much of it is from the proceeds of crime.1
Crossing the border with cash poses few risks. Criminal proceeds generated in the European Union (EU) and the UK are often hidden in compartments of cars and in trucks, and transported across the borders. According to a recent report by the GI-TOC on illicit financial flows, criminal actors also ask family, relatives and friends to bring cash back into the region in exchange for a small fee. Even people making a licit income abroad but who are paid in cash often entrust individuals with EU and UK passports (as well as US, Canadian and other 'strong' passports) to bring the money back home for them. 2 A truck driver explained how one can earn a commission of 10 per cent of the total cash being transported. Albanian criminals working in the UK, referred to as 'London boys', are known to pay well.3 Cash smuggling tends to increase during the summer months as people working abroad return home for the holidays.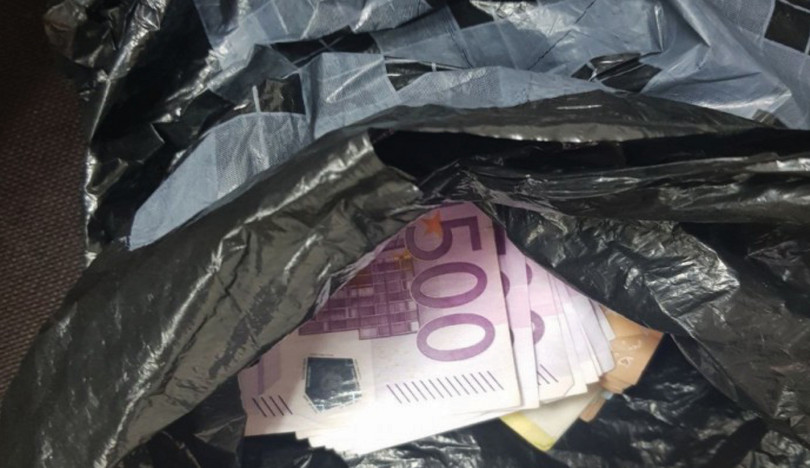 The table shows incidents of seizures of cash being smuggled into or out of Albania between June and August 2020, including at the airport in Tirana (the Rinas border).
| Place | Date | Amount seized |
| --- | --- | --- |
| Durres | 13 June 2020 | €498 850 |
| Rinas | 3 July 2020 | €18 500 |
| Rinas | 3 July 2020 | €12 900 |
| Morine | 5 July 2020 | CHF 77 160 |
| Rinas | 7 July 2020 | GBP 15 000 |
| Tre Urat | 9 July 2020 | GBP 26 820 |
| Durres | 28 July 2020 | €78 730 |
| Rinas | 31 July 2020 | €15 000 |
| Rinas | 5 August 2020 | GBP 22 000 |
| Rinas | 28 August 2020 | GBP 31 850 |
| Rinas | 28 August 2020 | GBP 10 000 |
Source: Information provided by the Albania General Directorate of Customs
These figures pale in comparison to a prominent case in June 2018 when €3.4 million was seized at the port of Durres in a trailer coming from Belgium (which is a major entry point for cocaine smuggled from Latin America to Western Europe).4
Moving cash between and within countries of the Western Balkans is comparably easy to conceal since large portions of every-day economic activity are cash-based. It is even common to make large, high-value payments, such as purchasing luxury property, using cash. Although most of these transactions are informal rather than illegal, they create the space for illicit actors to extract, move and absorb large amounts of value without ever leaving a trace on the formal financial systems.
Why enact payments using large amounts of cash as opposed to bank transactions or fast-money transfers? Is there a lack of trust in the system, or do people have something to hide? Or is it a more systemic problem related to the fact that many people in the country (particularly in the north) do not have bank accounts or access to ATMs?5 Whatever the reason, the lack of transparency certainly arouses suspicion. There are reports of powerful businesspeople working in the region who carry significant sums of cash between the countries but are considered to be 'untouchable' by customs officers. In an interview, a customs officer referred to a businessman who is suspected of transporting cash between Albania and North Macedonia as he has investments in both countries. The officer said: 'No one dares to check the trunk of his car because of how powerful he is. Nobody would stop him and [inspect] his car.'6
In short, this is an issue that requires greater scrutiny from law enforcement. Governments should train and encourage border personnel, including police and customs workers, to prioritize addressing cash smuggling instead of limiting their focus on drugs and goods. To accommodate this reprioritization, it may be necessary to increase the number of agents and provide additional technical capacity for detecting cash smuggling (such as cash-detection dogs and X-ray-scanning technology). Furthermore, detection is insufficient. Deterrence would be enhanced by launching investigations into the origins of the detected cash. Dealing with cash transfer is an illicit practice that also requires a change in attitude, both by those who are smuggling cash and those who too often turn a blind eye.
Notes