In north-western Nigeria, violence carried out by bandit groups has escalated so fast that killings now rival those that take place in Borno state, where extremist groups hold sway
The 18 July incident of a Nigerian air force jet shot down by bandit gunfire has brought sharply to the fore the escalating 'bandit crisis', as the current waves of violence in the country's north-west are generally referred to.1 What began as sporadic attacks carried out in rural communities in Zamfara state a decade ago2 has now enveloped the entire geopolitical region known as North West, which has experienced frequent raids on villages, mass kidnappings for ransom and cattle rustling not just in Zamfara, but also the states of Katsina, Kaduna, Kebbi and Sokoto (see Figure 3).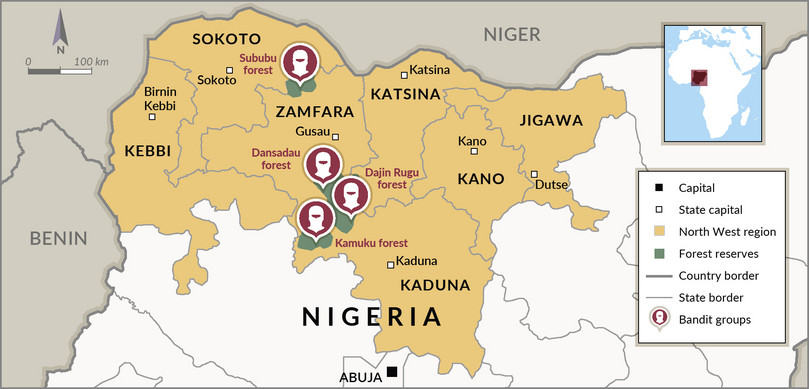 The roots of the bandit crisis can be traced back to 2011, when vigilantes in Zamfara sought to eradicate criminal groups who were stealing cattle and robbing villagers in Dansadau, an administrative division in Zamfara. These efforts unleashed a round of reprisals on villages after the criminals regrouped and acquired more sophisticated weapons. Their rebuttals were brutal – they razed villages and killed locals whom they suspected of collaborating with the vigilantes.3
After what one Nigerian security official described as 'years of not paying attention to the problem', the Nigerian government has only just started to approach the bandit problem as a crisis of its own, and not one that should be conflated with ongoing intercommunal violence between predominantly Fulani herders and Hausa farmers.4
Fuelling the violence, the bandits have been able to increasingly access heavy weaponry, which has proliferated in the Sahel, sourcing materiel throughout the subregion from arms dealers acting as middlemen.5 This heavyweight military advantage has changed the game by allowing the bandits to outgun local vigilante members and, over time, extend their criminal activities beyond Zamfara into neighbouring states where they have continued to raid villages, rustle cattle and organize mass kidnappings to boost revenue.6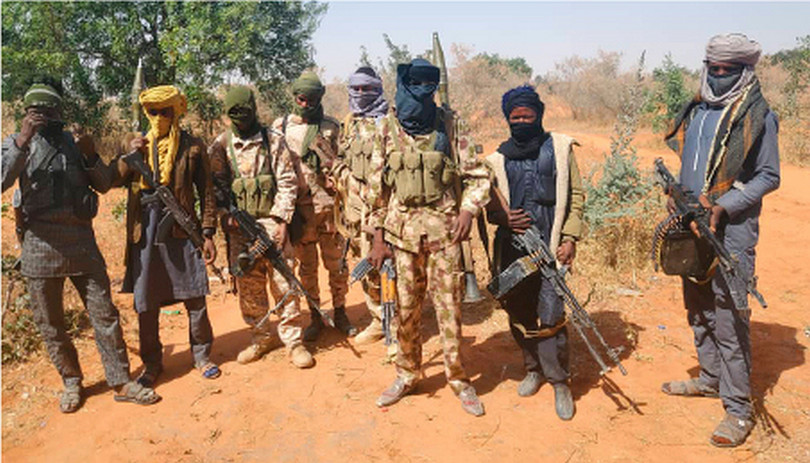 Taking advantage of the limited capacity and inefficacy of law enforcement and military forces in the region and the sluggish response by the state to the violence, criminal groups have entrenched themselves in vast forested areas, which they use as cover from which to stage attacks.7 The bandits reportedly operate from camps established in forests in Dansadau, Dajin Rugu, Kamuku and Sububu. In these encampments, as many as 200 to 1 000 men can be associated with a group under a single leader, with some gang leaders running several camps across states in the North West.8
Violence linked to banditry has increased so fast that killings now rival those that take place in Borno state, where Boko Haram and the Islamic State's West Africa Province, are most active.9
The Nigerian state has pursued a militarized response since 2015, reinforced by major military operations in 2019 and largely ineffective attempts at peace negotiations in 2020. But these interventions have done little to halt the ever-growing problem posed by the bandits, and attacks have merely continued to escalate, with heavy casualties on both sides.10 In March 2021, for example, bandits launched a raid on a forestry institute near the Nigerian Defence Academy in Kaduna state, kidnapping dozens of students in the process.11 Only two days before the July attack on the military jet, another group killed 13 policemen during an attack on a village in Zamfara.12
Mass kidnappings on the rise as cattle rustling reaps diminishing returns
From the outset of the crisis, criminal gangs have raked in large revenues, initially from the proceeds of selling stolen cattle.13 But cattle rustling started to become less lucrative as herds became depleted over time and owners moved their livestock to safer areas. At the same time, buyers grew reluctant to buy what were known to be stolen cattle, which drove down prices from 2016 (see Figure 4).14
Source: Interview with Alhaji Aminu Garba Gusau, chairman of the Cattle Dealers' Association of Nigeria in Zamfara state, 28 July 2021
In the face of this steady revenue decline, bandit groups increasingly turned to kidnapping for ransom since 2019, which generates more money and now serves as the most lucrative activity for nearly all the groups.15 Kidnapping for ransom has been a key source of revenue for other criminal networks and jihadist groups throughout the Sahel for the better part of two decades. In the case of North West Nigeria, individuals, companies and even elements of the Nigerian state have paid ransoms.16
A review of cases in North West Nigeria between 2019 and the first half of 2021 shows a clear upwards trend in the numbers of people being kidnapped and a parallel increase in ransoms being paid (see Figure 5).
Source: Estimates from review of reported cases in Nigerian media for 2019, 2020, 2021
NOTE: There are methodological limitations to data collated from press reports – many incidents are not reported, and inaccuracies in reporting are common. The figures presented should therefore be seen as indicative rather than exhaustive.
* Many kidnapping incidents are reported by the press with no reports about the ransoms paid. As many ransom payments are not disclosed, the figures provided here, collated from press reporting, are likely to be significantly below the total amounts paid in ransom.
** North West Nigeria here includes Sokoto, Kebbi, Zamfara, Katsina, Jigawa, Kano, Kaduna.
This year has also seen a staggeringly high number of cases of kidnappings of schoolchildren. As of the first week of July, 748 students had been reported kidnapped from eight schools in Kaduna, Katsina, Zamfara and the state of Niger.17 Parents have opted not to send their children to educational facilities for fear that they will be targeted, while some schools have shut down.18
Regional weapons flows
Bandits and other criminal groups source weapons through individuals involved in the cross-border arms trade. One former arms supplier, Modu, (not his real name) explained how he would smuggle weapons into Nigeria sourced in northern Mali via Niger and Benin. Modu, who was recently arrested while ferrying ammunition to the criminals, said that over the last five years, he had procured weapons from Mali and delivered them to local agents, who then passed them on to the gangs in their hideouts. All the weapons were AK-47s. The bandits paid between 400 000 and 500 000 naira (€823–1 029) per gun, from which Modu would make a profit of between 60 000 and 100 000 naira (€124–206). 'I have sold weapons to [three bandit leaders, names redacted], but I have never met them physically. They would call me on the phone and send money through intermediaries. The pickup point was usually around Gadan Manya in Anka, Zamfara state,' Modu said.19
Another gun runner, who was arrested by the police in February 2021, said he sourced his weapons from Damagaram, Niger. According to this arms trafficker, one general-purpose machine gun sold for 4 million naira (€8 234), and an AK-47 for around 600 000 naira (€1 235). He made a profit of between 70 000 and 100 000 naira (€144–206) for each AK-47 he sold.20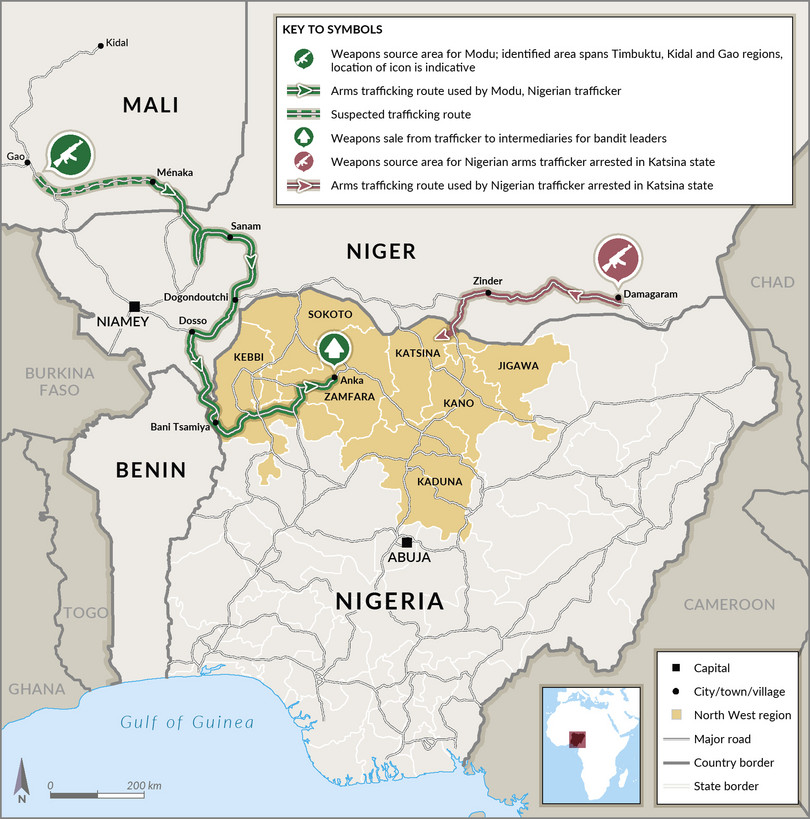 Source: Interview with 'Modu', 20 July 2021, Zamfara, Nigeria; reported interview with arrested gun runner in February 2021, Katsina state.
Note: The route between some of the named locations on the map may vary.
Despite border closures in recent years in response to insecurity, and the COVID-19 pandemic, arms smugglers appear to have had little difficulty continuing their activities.21 A Nigerian security official indicated that bandits are also able to source weapons and ammunition from corrupt members of Nigerian security agencies, and by attacking military and police facilities, and looting the armouries.22 Either way, the bandits have become very well armed. A journalist who interviewed a bandit leader called Shehu Rekeb (see the photo on page 12) at his forest camp in Zurmi, Zamfara, in February 2021 said over 40 of the bandits present were armed with AK-47s, AK-49s, general-purpose machine guns and rocket-propelled grenades.23
Some bandit leaders retain control of their groups' weapons stock, hiring out guns to members prior to conducting operations. A former bandit who had taken part in deadly raids on communities in parts of Zamfara revealed that his leader charged 100 000 naira (€206) for use of an AK-47. 'We pay for them after the operations,' he said, with the hire fee deducted from the profits they would make from the operation.24 'A bandit leader [name redacted] at the time had about 57 rifles in his possession. Whenever we were going to attack a community or abduct someone, we hired the rifles from him,' he said.25 Although such dynamics are likely to vary from group to group, instances of leaders retaining ownership of weapons may be an attempt to stave off leadership challenges and centralize control over the group.
Furthermore, a gold dealer, who gave the pseudonym Belal, said that gold-miners in Zamfara are regularly robbed and killed by bandits.26 In March 2021, the Nigerian government imposed a no-fly zone and announced a ban on gold-mining in Zamfara in response to a spate of kidnappings and attacks by bandit groups.27 According to this gold dealer, however, the measure has done little to curb illegal mining activities.28
Better responses to an ongoing threat
Despite the Nigerian government's militarized approach to combating banditry,29 violent bandit groups operating in the north-west have managed to diversify their revenue streams, tapping into a range of different criminal markets, and consolidating their hold over illicit economies such as kidnapping and artisanal gold-mining. At the same time, there is a risk of conflating the bandit crisis with ongoing tensions between ethnically divided herding and farming communities, as well as with the growing presence of various jihadist groups in the region.30 Tackling the bandit crisis does need to entail a military component, but will also require interventions that consider the criminal markets on which the groups rely, address the growing weaponization of the region, and incorporate a careful understanding of the ways in which these groups interact with and are separate from other drivers of insecurity and violent extremism in the region. The downed jet should be a stark wake-up call to the authorities for more focused action.
High profile kidnappings in North-West Nigeria in 2021
NOTE: The figures provided are based on reporting from credible newsgathering outlets, including Daily Trust, The Nation, Vanguard and Punch. For any given event listed above, the reported number of people kidnapped and released, and the amounts paid in ransom may vary, or be in dispute.
Notes
F Mac-Leva and I Isamotu, Insecurity: Zamfara, Kebbi, Niger lead as gunmen kill 1 031 Nigerians in 1 month, Daily Trust, 22 July 2021, https://dailytrust.com/insecurity-zamfara-kebbi-niger-lead-as-gunmen-kill-1031-nigerians-in-1-month. ↩

LD Adamu, Robbers stage 'reprisal', kill 10 in Zamfara, Daily Trust, 11 August 2011. ↩

LD Adamu, H Idris and Yahaya Ibrahim, 22 killed as bomb blast, attacks mar anniversary, Sunday Trust, 2 October 2011. ↩

Interview with security minister of state in North West Nigeria, 8 July 2021. ↩

Interview with Nigerian illegal arms dealer, Kaduna, 22 July 2021; Interview with a Nigerian ex-bandit, Zamfara, 20 July 2021. ↩

Halting the Deepening turmoil in Nigeria's North West, International Crisis Group, 26 May 2021, https://www.crisisgroup.org/africa/west-africa/nigeria/halting-deepening-turmoil-nigerias-north-west. ↩

LD Adamu, H Idris & Yahaya Ibrahim, 22 killed as bomb blast, attacks mar anniversary, Sunday Trust, 2 October 2011. ↩

Interview with a source familiar with the activities of the groups and who has been to some of the camps, Zamfara, 19 July 2021. ↩

Why 'the kidnapping industry is thriving' in Nigeria, Financial Times, 25 April 2021, https://www.ft.com/content/d8d9bf8f-0aa2-405f-b3f7-2a3e7e7b297c. ↩

N Ayitogo, Exclusive: Bandits ambush Nigerian troops, kill seven soldiers, injure five others, Premium Times Nigeria, 6 July 2021, https://www.premiumtimesng.com/news/headlines/471996-exclusive-bandits-ambush-nigerian-troops-kill-seven-soldiers-injure-five-others.html. ↩

Students abducted from College of Forestry in Kaduna, Dateline Nigeria, 12 March 2021, https://www.dateline.ng/students-abducted-from-college-of-forestry-in-kaduna. ↩

AA Maishanu, Police say 13 officers killed in Zamfara, Premium Times Nigeria, 19 July 2021, https://www.premiumtimesng.com/news/top-news/474483-police-say-13-officers-killed-in-zamfara.html. ↩

Interview with a bandit, Kaduna, 22 July 2021. ↩

Interview with a former bandit, Zamfara, 20 July 2021. ↩

Interview with a Nigerian bandit, Kaduna, 22 July 2021; interview with a Nigerian former bandit, Zamfara, 20 July 2021. ↩

John Campbell, Kidnapping and ransom payments in Nigeria, Council on Foreign Relations, 18 February 2021, https://www.cfr.org/blog/kidnapping-and-ransom-payments-nigeria. ↩

The figure is an estimate taken from Nigerian media reports on kidnapping of students that occurred from February to July, 2021. ↩

Timothy Obiezu, Officials say 3 million children are out of school in Nigeria, Voice of America, 22 March 2021 https://www.voanews.com/africa/officials-say-3-million-more-children-are-out-school-nigeria. ↩

Interview with 'Modu', 20 July 2021, Zamfara, Nigeria. ↩

For a YouTube video of arrested gunrunner paraded by Nigeria police in Katsina state, February 2021, see https://youtu.be/QSAEfntGN1Y. ↩

B Ogundele, Border closure failed to stop smuggling of arms, Buhari laments, The Nation, 18 March 2021, https://thenationonlineng.net/border-closure-failed-to-stop-smuggling-of-arms-buhari-laments. ↩

Interview with security minister of state in north-west Nigeria, 8 July 2021. ↩

Interview with a Nigerian journalist who met a bandit leader, Shehu Rekeb, 21 July 2021. Abdulaziz Abdulaziz, Mastermind of Kankara abduction makes U-turn, returns to forest, 29 April 2021, https://dailytrust.com/mastermind-of-kankara-abduction-makes-u-turn-returns-to-forest. ↩

According to one former bandit, leaders claim that charging a fee for the weapons will ensure they are serviceable or replaceable at any given time. Interview with a Nigerian former bandit, Zamfara, 20 July 2021. ↩

Interview with a Nigerian former bandit, Zamfara, 20 July 2021. ↩

Interview with a Nigerian gold dealer, Zamfara, 19 July 2021. ↩

Nigeria bans mining and flights in NW state after schoolgirl abductions, Reuters, 2 March 2021, https://www.reuters.com/article/nigeria-security-kidnapping-president/update-1-nigeria-bans-mining-and-flights-in-nw-state-after-schoolgirl-abductions-idUSL2N2L01VK. ↩

Interview with a Nigerian gold dealer, Zamfara, 19 July 2021. ↩

Interview with security minister of state in North West Nigeria, 8 July 2021. ↩

Ibid. ↩