Bosnia and Herzegovina has become a key transit country for weapons smuggling in Europe.
Bosnia and Herzegovina has long been a source country for weapons smuggling. Since the end of the Bosnian war in 1995, the country has been awash with small arms and light weapons. While some of these weapons have been trafficked into conflict areas in the region, others were used in terrorist attacks in western Europe. Prices on the black market have soared since the start of the war in Ukraine. Recent police operations reveal that the trade is well organized and transnational, and that Bosnia and Herzegovina is now also a transit country for weapons smuggling.
Arsenals past and present
Bosnia and Herzegovina has a population of around 3.2 million people. In 2010, the United Nations Development Programme estimated that there were about 750 000 weapons in illegal possession in the country.1 Based on data of locations of police actions where weapons were found or criminals arrested, it is evident that there are illicit firearms in almost all parts of Bosnia, but mostly in the east of the country, as well as the Tuzla and Sarajevo regions, western Herzegovina, Bosanska Gradiska area, Banja Luka, Tesanj, Doboj, Bijeljina and Zenica.
Furthermore, it is estimated that since 2006 there have been nine thefts of weapons from warehouses of the Bosnian armed forces. In March 2017, eight pistols and six automatic pistols went missing from the barracks in Bileca,2 while arms and ammunition were stolen by a solider in the barracks in Pale in 2018.3 In February 2021, the Ministry of Defence informed that 'a certain amount of weapons disappeared' from the basic training centre in Pazaric, and that the security seal at the entrance to the weapons and military equipment warehouse had been damaged.4 The deputy chair of the joint parliamentary commission for defence and security, Dušanka Majkić, asked how it was possible for 25 high-quality pistols to disappear from the ministry's premises and how someone could enter the warehouse and know exactly where to go and what to take.5 It is worth noting that many of these cases were never solved. According to Majkić, 'weapons usually end up in foreign markets… it is a matter of good, fast and easy trade.'6
According to information by Bosnia and Herzegovina's Border Police, a number of recent seizures indicate that smuggling of firearms from Bosnia and Herzegovina is very active. In 2021, police in Bosnia and Herzegovina recorded 18 crimes related to arms smuggling; 27 weapons, a bomb and 1 135 pieces of ammunition were seized. In the same period, seven misdemeanour charges were filed against suspected smugglers, while two weapons and 231 pieces of ammunition were temporarily seized.7
Drugs and guns follow similar routes
Organized criminal groups that smuggle weapons are usually involved in smuggling drugs. The most travelled routes are through well-known hotspots of organized crime, for example through main highways and border crossings using sealed trucks. However, sometimes less passable terrain is used, for example forest roads along the border between Montenegro8 and the Trebinje9 and Bileca regions of Bosnia and Herzegovina, using rafts and boats in the Bijeljina region of Serbia or the Brcko District of Bosnia and Herzegovina,10 or forest trails around Capljina, Ljubuski or Grude in Croatia.11 According to a convicted member of an organized criminal group from Trebinje, when weapons smugglers use these routes they hire local guides and porters.
There are also indications of weapons being smuggled through Bosnia and Herzegovina from elsewhere in the Western Balkans. A lawyer who has been defending arms trafficking suspects in Bosnian courts for the past 15 years said: 'There is a smuggling channel going from Albania and Montenegro via eastern and western Herzegovina to Croatia and Europe, and Croats and Serbs are doing it. I think it's the strongest channel that goes roughly from Montenegro through those "wild" crossings in Bileca and the surrounding area. It goes through western Herzegovina, where the other team takes over for Croatia.'12
In other cases, the weapons are destined for western Europe. In March 2022, an international investigation conducted jointly by French and Croatian police revealed that a criminal group including members from Croatia, Bosnia and Herzegovina, and France were trying to smuggle weapons to France.13
In December 2018, the Croatian Office for the Suppression of Corruption and Organized Crime launched an investigation against two Croatian members of a criminal organization who were allegedly smuggling Ecstasy from the Netherlands to Croatia, as well as optical equipment for weapons and 37 kilograms of plastic explosives from Bosnia and Herzegovina to Croatia. The criminal group's plan was to procure, smuggle and resell large quantities of Ecstasy and cocaine to pre-agreed buyers from the Netherlands to Croatia, and to smuggle and sell large quantities of weapons from Bosnia and Herzegovina to Croatia and then to western European countries. Police seized weapons and explosives in the area of Slavonski Brod and Okučani.14
The links between weapons and drug trafficking can also be seen in a December 2021 police operation called Storage 2,15 carried out in the town of Bosanska Gradiska in the Republic of Srpska, close to the border to Croatia. The operation was launched to disrupt a drug trafficking ring, but after searching several locations, the police discovered large quantities of weapons, ammunition and mines. Twenty suspected members of an organized criminal group were arrested.
According to media reports, the police had been monitoring the group from Bosanska Gradiska via the 'Sky' application.16 They had observed that drugs and firearms were temporarily stored in hidden locations in Bosanska Gradiska and that the group had vans and passenger vehicles with special compartments for hiding narcotics and weapons. Prosecution documents disclose that the group had links to accomplices in Zagreb and Osijek in Croatia, as well as clients in Serbia and western Europe.17 For example, in November 2020, members of the group allegedly trafficked 23 pistols from Bosnia and Herzegovina to Germany, earning them €53 000.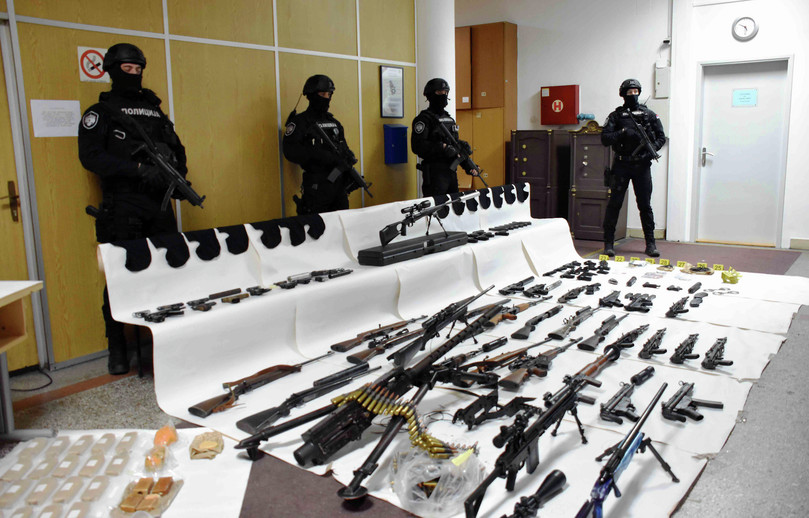 Photo: Serbian Ministry of Interior
It is worth noting that members of the criminal group from Bosanska Gradiska have been linked to a number of executions in Serbia, Montenegro and Bosnia and Herzegovina. For example, when looking for the murderer of Strahinja Stojanović, who was killed on 13 September 2020 when a bomb exploded under his car, the Serbian police discovered a 'house of horrors' in Ritopek that is thought to be the home of the assassin. It was full of weapons, some of which were allegedly procured from criminals in Bosanska Gradiska.18
Direct sales
While criminal groups from Bosnia and Herzegovina appear to be part of multinational criminal networks, in other cases they seem to be trying to sell weapons 'first hand', which returns a higher profit. In January 2020, German and Bosnian police thwarted an attempt by a Bosnian citizen to smuggle weapons to Germany and the Netherlands. According to an indictment from the Prosecutor's Office of Bosnia and Herzegovina, 95 hand grenades, four semi-automatic rifles, eight pistols and a significant amount of ammunition of various calibres, all of which was intended for the illegal market, was discovered in Dresden in a car with Bosnian licence plates.19 Similarly, in May 2021, police in Bosnia and Herzegovina arrested four men trying to smuggle large quantities of illicit firearms (including a hand-held rocket launcher) into western Europe.20 Three of them were previously convicted of similar crimes. More recently, in August 2021, members of the Bosnian border police seized an arsenal of weapons and ammunition and arrested a Bosnian citizen from Zvornik who was suspected of smuggling weapons to France for the illegal market.21
According to a former member of a criminal group from Trebinje, the demand for and cost of weapons in the region rises during periods of political instability, such as when barricades were set up in northern Kosovo or before the 2020 elections in Montenegro.22 There are indications that prices for firearms on the black market in Bosnia and Herzegovina have doubled since the start of the war in Ukraine.
Trafficking in small arms and light weapons is a threat in itself and often a side-effect of conflict. As demonstrated in the case of Bosnia and Herzegovina, criminal groups involved in drug trafficking are often involved in the trafficking of weapons, for which the Western Balkans remains a major region of supply and transit.
Notes
A Đugum and M Žuvela, Ukradenom oružju iz kasarni BiH se redovno ne ulazi u trag, Radio Slobodna Evropa, 15 February 2021, https://www.slobodnaevropa.org/a/ukradenom-oružju-iz-kasarni-u-bih-se-redovno-ne-ulazi-u-trag/31104191.html. ↩

N N, Novi skandal u Oružanim snagama BiH: Iz kasarne u Bileći nestalo oružje, Nezavisne novine, 7 March 2017, https://www.nezavisne.com/novosti/bih/Novi-skandal-u-Oruznim-snagama-BiH-Iz-kasarne-u-Bileci-nestalo-oruzje/416228. ↩

B Brezo, Misteriozna krađa u kasarnama u BiH: Gdje završava ukradeno oružje?, N1 BiH, 17 February 2021, https://ba.n1info.com/vijesti/kradja-oruzja-u-kasarnama-u-bih-ko-kako-i-gdje-je-zavrsilo/. ↩

Potvrđeno: Nestalo oružje u Pazariću, istraga u toku, N1 BiH, 12 February 2021, https://ba.n1info.com/vijesti/potvrdjeno-nestalo-oruzje-u-pazaricu-istraga-u-toku/. ↩

Majkić: Nestanak oružja iz kasarne novi sigurnosni izazov za BiH, Klix, 16 February 2021, https://www.klix.ba/vijesti/bih/majkic-nestanak-oruzja-iz-kasarne-novi-sigurnosni-izazov-za-bih/210216076. ↩

A Đugum and M Žuvela, Ukradenom oružju iz kasarni BiH se redovno ne ulazi u trag, Radio Slobodna Evropa, 15 February 2021, https://www.slobodnaevropa.org/a/ukradenom-oružju-iz-kasarni-u-bih-se-redovno-ne-ulazi-u-trag/31104191.html. ↩

Interview with head of investigations at Border Police Bosnia and Herzegovina, 15 January 2022, Sarajevo. ↩

J Jovanović, Procurili dokazi; šta će sada izmisliti Čovićev direktor Granične policije: Na ovom mjestu je granica BiH šuplja kao sir…, Slobodna Bosna, 6 November 2019, https://www.slobodna-bosna.ba/vijest/132351/procurili_dokazi_sta_ce_sada_izmisliti_chovicev_direktor_granichne_policije_na_ovom_mjestu_je_granica_bih_suplja_kao_sir.html. ↩

A Terzić, Otvorena južna ruta: Sve više migranata preko Trebinja do Zapada, Anadoly Agency, 22 December 2017, https://www.aa.com.tr/ba/balkan/otvorena-južna-ruta-sve-više-migranata-preko-trebinja-do-zapada/1012210. ↩

Akcija policije BiH i Hrvatske na Savi, hapšenja zbog krijumčarenja migranata, N1 BiH, 22 September 2021, https://ba.n1info.com/vijesti/akcija-policije-bih-i-hrvatske-na-savi-hapsenja-zbog-krijumcarenja-migranata/. ↩

N N, Osuđen bračni par iz Trebinja zbog šverca heroina iz BiH u Hrvatsku, Nezavisne novine, 10 July 2019, https://www.nezavisne.com/novosti/hronika/Osudjen-bracni-par-iz-Trebinja-zbog-sverca-heroina-iz-BiH-u-Hrvatsku/547591. ↩

M Sadiković and Dž Halimović, Ilegalna trgovina oružjem iz BiH ka Evropi, Radio Slobodne Evrope, 30 April 2021, https://www.slobodnaevropa.org/a/ilegalna-trgovina-oruzjem-u-bosni-i-hercegovini/31229561.html. ↩

Ahmet Kalajdžić, Zbog krijumčarenja oružja Francuzima po pet, a švicarskom gastarbajteru tri mjeseca zatvora, Dubrovački Vjesnik, 5 March 2022, https://dubrovacki.slobodnadalmacija.hr/dubrovnik/vijesti/crna-kronika/zbog-krijumcarenja-oruzja-francuzima-po-pet-a-svicarskom-gastarbajteru-tri-mjeseca-zatvor-1173033 and Zajedničkom akcijom hrvatske i francuske policije razotkriveno krijumčarenje oružja namijenjenog Francuskoj, Republika Hrvatska Policijska uprava dubrovačko-neretvanska, 30 March 2022, https://dubrovacko-neretvanska-policija.gov.hr/novosti/zajednickom-akcijom-hrvatske-i-francuske-policije-razotkriveno-krijumcarenje-oruzja-namijenjenog-francuskoj/14320. ↩

USKOK – Hrvatski državljani uhapšeni zbog krijumčarenja oružja i eksploziva iz BiH, Radio Sarajevo, 19 December 2018, https://radiosarajevo.ba/vijesti/bosna-i-hercegovina/hrvatski-drzavljani-uhapseni-zbog-krijumcarenja-oruzja-i-eksploziva-iz-bih/321802. ↩

G Obradović, Ekskluzivni detalji akcije "Storidž 2" Kriminalci iz Gradiške prodavali oružje Velji Nevolji, do njih odveli dokazi iz kuće strave, Srpskainfo, 10 December 2021, https://srpskainfo.com/ekskluzivni-detalji-akcije-storidz-2-kriminalci-iz-gradiske-prodavali-oruzje-velji-nevolji-do-njih-odveli-dokazi-iz-kuce-strave/. ↩

M Aščić, Kako je aplikacija "Sky" raskrinkala opasnu narkobandu iz Bosanske Gradiške: Na prodaji pištolja zaradili 100.000 KM!, Avaz, 6 January 2022, https://avaz.ba/vijesti/bih/708294/kako-je-aplikacija-sky-raskrinkala-opasnu-narkobandu-iz-bosanske-gradiske-na-prodaji-pistolja-zaradili-100-000-km. ↩

Ibid. ↩

G Obradović, Ekskluzivni detalji policijske akcije "Storidž 2" Kriminalci iz Gradiške prodavali oružje Velji Nevolji, do njih odveli dokazi iz kuće strave u Ritopeku, Blic, 10 December 2021, https://www.blic.rs/vesti/republika-srpska/ekskluzivni-detalji-policijske-akcije-storidz-2-kriminalci-iz-gradiske-prodavali/0hgvleb. ↩

Podignuta optužnica protiv dvije osobe optužene za međunarodno krijumčarenje oružja i vojne opreme, Tužilaštvo Bosne i Hercegovine, 17 January 2020, http://www.tuzilastvobih.gov.ba/index.php?id=4397&jezik=b. ↩

Podignuta optužnica protiv četiri osobe optužene za međunarodno krijumčarenje oružja i vojne opreme, Tužilaštvo Bosne i Hercegovine, 7 May 2021, http://www.tuzilastvobih.gov.ba/index.php?id=4885&jezik=b. ↩

Otkriven lanac švercera oružja iz BiH u Francusku, uhićen čovjek iz Zvornika, Index, 7 August 2021, https://www.index.hr/vijesti/clanak/otkriven-lanac-svercera-oruzja-iz-bih-u-francusku-uhicen-covjek-iz-zvornika/2295755.aspx. ↩

Interview with a convicted criminal from Trebinje who has been involved in the resale of weapons, and is familiar with smugglers as well as smuggling routes and prices. Trebinje, 7 January 2022. ↩