Extortion and access to illicit firearms are key to understanding the rise in mass shootings in South Africa.
In July 2022 alone, 26 people were killed and at least 27 injured in six separate reported incidents of mass shootings in South Africa. All six took place at taverns, mainly in Gauteng and KwaZulu-Natal provinces.1 In the same month, seven people were shot dead at a spaza shop (convenience store) in Mariannhill, KwaZulu-Natal, where, according to the provincial Liquor Board, illegal alcohol was being sold.2
Other areas have also seen rising incidents of mass shootings. In Khayelitsha, a black-majority township on the outskirts of Cape Town, at least 30 people have been killed in mass shootings since the start of 2022, many of which appear to be linked to extortion rackets.
These shootings have left South Africans reeling; even in a country grimly accustomed to high rates of violent crime, the sheer number of lives lost in these incidents has shocked observers. These killings bear similar hallmarks: while the motives for some shootings may differ, they are the product of vast numbers of illicit firearms and ammunition having flowed to criminal networks in South Africa in recent years.
Violence at taverns in South Africa is neither a new nor uncommon phenomenon. Analysis of crime statistics from the South African Police Service (SAPS) in 2019 identified liquor outlets as the third most common location for 'contact crimes' (a category that includes rape, assaults and murder), following the victim's home and general 'public places' (including parks, streets and open areas).3 Often key points for social congregation in marginalized urban communities where insecurity is particularly high, taverns are a magnet for many, including criminal groups.
However, tavern owners draw a distinction between the general crime that often surrounds taverns and the recent upsurge in mass shootings at these sites. As one KwaZulu-Natal tavern owner put it, referring to the general crimes that occur at taverns: 'That is part of normal township criminality, but the recent attacks and shootings seem different from this normal crime.'4 A second KwaZulu-Natal tavern owner echoed this: 'There are arguments and conflicts at taverns all the time. These shootings are not the same. This is intimidation. It is not an ordinary crime.'5 Official sources agreed: according to the Gauteng Liquor Forum chairperson, Fanny Mokoena, mass shooting incidents began in around 2019.6 This appears to be corroborated by reports from SAPS, which detail incidents of multiple shootings at taverns over 2019–2020.7
A lack of available evidence about the motives of these tavern shootings has driven intense public speculation. From our interviews, it seems that there are a few different motives. In some cases, such as the Mariannhill shooting in KwaZulu-Natal mentioned above, the shootings appear to be the result of targeted assassinations of specific patrons present at the taverns. Other patrons killed or injured may well have been collateral damage of these targeted hits.8
With regards to other incidents, several tavern owners and security experts have referred to increasing levels of extortion of taverns and the emergence of so-called 'tavern mafias' as being behind the shootings. These groups are allegedly attempting to wrest control not only of the taverns' alcohol trade but also of drug sales, which can be concentrated in the taverns as local social hubs.
Sbu,9 a tavern owner in northern KwaZulu-Natal, referred to protection and extortion rackets operating in the province, saying, 'There is also extortion going on. If you don't use my protection, [they say], then I shoot people in your tavern.'10 Sbu described how drugs could also be a factor, noting:
I think there are more drugs involved in taverns closer to urban areas, the lounges that cater to the youth. The liquor business is becoming more dangerous. It is like the taxi industry. Everyone is carrying guns and fighting for their lane. The winner is the most violent guy. It is scary, but there is a lot of money, so that is why there is competition and violence.
One private security operator with close links to taxi and tavern owners said that 'people are telling [him] it has to do with business mafias who want to control the liquor trade.' 'Basically, taverns are busy and profitable, so you want to control them,' he went on to say. 'There are a few ways of doing that. One is to create a protection racket. So if you don't subscribe to my protection service you know I am going to hit you.' The private security operator continued: 'More drugs are also being sold at taverns now as well. It is an obvious retail outlet. If I am running Tavern A and I want to sell more drugs or alcohol I need to muscle out Tavern B, so I send some guys to shoot up the patrons there.'11
Dr Reza Patel, founder of the Civilian Crime Intelligence Network, made a similar assessment. 'If you control a tavern, you control what goes in and what comes out in a loosely regulated environment,' he said. 'There is all manner of trade within a tavern. I think the shootings are to do with gang rivalries and "debts" not being paid to criminal groups seeking control over these spaces.'12
Criminologist and former policeman Dr Hennie Lochner, speaking to South African media organization IOL, also pointed out that the hard COVID-19 lockdown (during which alcohol and cigarette sales were banned) created a bigger market for cheap, illicit cigarettes and alcohol (and thus a bigger illicit market for extortion groups to target), which continued to exist even after the bans were lifted.13
The police have made some indications that their investigations are drawing similar conclusions. Briefing the media in early August, National Police Commissioner Lieutenant-General Fannie Masemola said: 'We have found from our investigations so far that the motives of the shootings are either drug-related or extortion.'14
However, some members of the Gauteng Liquor Forum, made up of micro- and small-scale liquor traders, disagreed, saying that they have not observed attempts of extortion of their members by protection and other rackets. However, as our previous research on extortion has found,15 owners may be reluctant to report that they are being targeted, for fear of further reprisals.
Mass shootings and extortion rackets in Khayelitsha
In Khayelitsha, a spate of mass shootings prompted the local Development Forum to hold a 'crisis summit' in June 2022. Speaking at the summit, SAPS Major-General Vincent Beaton stated that 86 people had been killed in mass shooting incidents in the year to March 2022, and 36 criminal case dockets had been opened.16
Extortion (and gangs linked to extortion rackets) has been identified as one of the most common underlying factors in these shootings. Here, gangs involved in extortion have not only targeted taverns, but other local businesses, such as shops, and victims in their homes and on the streets.
The recent spike in violence is the culmination of a year's build-up in the activity of extortion networks. Our previous research in 2021 found that gangs involved in extortion in Khayelitsha initially targeted foreign national business owners, particularly Somali communities. However, from 2019 and early 2020, these groups expanded their reach to target non-foreign businesses and residents of Khayelitsha.17 The shootings are orchestrated to intimidate defiant victims to pay the protection fees.
The case of Yanga Endrey Nyalara, known as 'Bara', shows the violent dynamics of these extortion rackets in action. Nyalara, who was arrested on 1 July 2022, stands accused of 18 counts of murder and at least five counts of attempted murder linked to mass shootings in Khayelitsha in May 2021 and May 2022. Nyalara and his co-accused are allegedly members of a prominent gang, which, according to National Prosecuting Authority spokesperson Eric Ntabazalila, engaged in the 'extortion of informal businesses around Khayelitsha and [committed] violent criminal acts by instilling fear among the owners of the informal businesses to induce them to pay money to the gang.'18 They have not yet pleaded to the charges against them.
Nyalara started out in the taxi industry, an industry characterized by high levels of organized crime and violence.19 He thereafter opened his home for residents to come and report criminal cases that he would resolve, as though acting as a substitute police station.20 In a voice note that was reportedly sent to a community WhatsApp group, Nyalara expressed his anger after members of the Khayelitsha community highlighted the extortion of foreign shop owners in a memorandum about gender-based violence and crime, threatening to withdraw his protection services.21 In doing so, Nyalara publicly described his role as an enforcer and local extortionist. 'You are ungrateful,' he says in the note, explaining:
I do not sleep, going up and down creating new enemies, breaking and strangling people's children for you. Now you hold a march […], now you get involved in our dealings and the Somalians. That does not involve you. […] I was doing all this for you. The next thing you guys go and sign memorandums and hand them over to the police, disturbing my dealings that do not involve you.22
Even though Nyalara's role as an extortionist is seemingly well publicized, residents are reluctant to share information and to expose themselves as targets.23
Yet 'Bara' is seemingly both feared and revered by the Khayelitsha community. Residents of Khayelitsha Site C marched to the police station singing praises for the protection he offered the community in March 2022, when he was wanted by police.24 Most recently, community members gathered outside the Cape Town Magistrate's Court when he appeared there on 18 August, also to express support.25 There is a complex relationship between communities living in high-risk areas such as Khayelitsha and criminal figures who, even while acting brutally to their victims, can still offer security and protection to those who accept their authority.
What the data show us
Source: SAPS annual reports.
SAPS classifies a mass shooting as an incident in which three or more people are shot with a firearm. SAPS does not routinely release data on the frequency of mass shootings, however. In 2022, the Western Cape government released data showing that 442 mass shootings took place in the province between June 2019 and December 2021 26, resulting in 563 deaths and 1 063 people wounded. National comparable data is not publicly available. However, data on 'multiple murders' – defined as an incident in which two or more people are killed, which would include mass shootings (but also murders using other weapons) – shows a 10% uptick in frequency between the three quarters leading to March 2022, and the same period the previous year.
Access to firearms is a common underlying factor
Easy access to illicit firearms and ammunition is a systemic issue that plays a key role in the mass shootings that take place in South Africa.
While the motives for the mass shootings may differ, all appear to have a common theme of being organized and perpetrated by heavily armed gunmen. Criminal networks in South Africa have access to a vast number of illicit firearms. Some of these firearms come from historical stock, left behind by the pre-1994 conflict, or have been smuggled across the borders. Many come from domestic sources, including firearms lost or stolen from civilian owners or firearms under the jurisdiction of the state. Between 2002/3 and 2018/19, more than 26 000 police firearms were lost or stolen, many ending up in criminal hands.27
In almost all instances of tavern massacres, bullets have been fired randomly – into the air or at patrons – suggesting that criminal groups have access to ready supplies of ammunition. Police investigators in the Soweto tavern shooting that occurred in the second week of July 2022 described finding more than 130 spent cartridges from high-calibre weapons at the scene.28 Again, state-owned ammunition has been lost: Police Minister Bheki Cele told parliament in August 2019 that SAPS had 'lost' more than 9.5 million rounds of ammunition over the previous six financial years.29
Whatever the different sources for these firearms, one thing is clear: easy access to illicit firearms and ammunition is a systemic issue, which plays a key role in the mass shootings that take place in South Africa.
Assessing the responses
The police response to the mass shootings does not appear to reflect the organized nature of the violence.
Responding specifically to the Soweto tavern shooting, in which 16 people were killed by armed gunmen, Cele announced that the Tactical Response Team and Public Order Police would be deployed into the area. When similar tactics have been used in the past – for example, in response to spikes in violent crime in Eldorado Park, south-western Johannesburg, in 2013 and 2018 – they have achieved a short-term stay in the killings. However, with the initial 'crackdown' over, killings have not reduced violence in the long term.30 This is because organized criminal actors can outlast and adapt their activities to accommodate such operations. In addition, the recent tavern shootings are not unique to Soweto, and it is unlikely that the police have the resources to conduct such high-intensity operations in all the areas that are – or could become – affected by such shootings.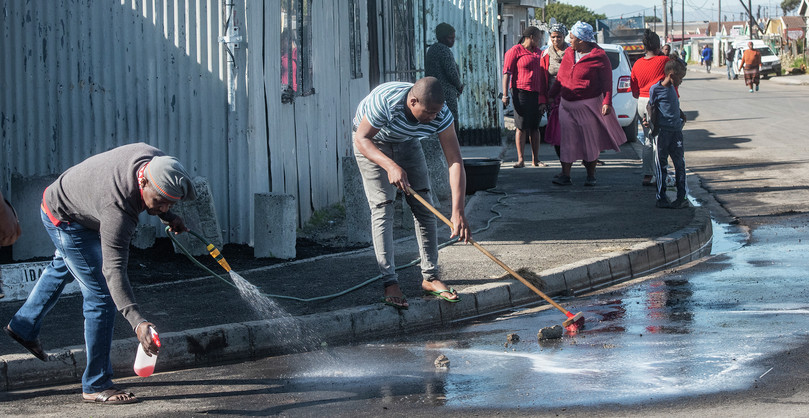 Gallo Images/Brenton Geach.
During his early August 2022 media briefing, National Commissioner of Police Fannie Masemola acknowledged that there are common threads among some of the shootings, such as links to extortion and drugs. However, Masemola also refuted claims that the rise in mass shootings was linked to organized crime, saying their investigation so far shows no clear link between the shootings. Yet if coordinating an extortion racket, gaining control over profits of the drugs trade, accessing high-calibre weapons and killing multiple weapons is not indicative of a link to organized crime, it is difficult to understand what is. The shootings may not be individually linked, but they are indicative of multiple organized criminal groups using the weapons readily available to them to kill and intimidate.
The response of the National Commissioner is concerning in that it indicates that the police remain an institution without strategic direction and understanding when it comes to organized crime. The shootings also clearly highlight issues concerning the state's ability to address illicit firearm markets in the country. South Africa is at a tipping point when it comes to organized crime and illicit firearms, and, if left unchecked, shootings such as those witnessed this year at taverns in KwaZulu-Natal and Gauteng and those occurring in Khayelitsha are likely to become commonplace.
Notes