Risk Bulletin
Download PDF
Observatory of Illicit Economies in Eastern and Southern Africa
Summary highlights
About this issue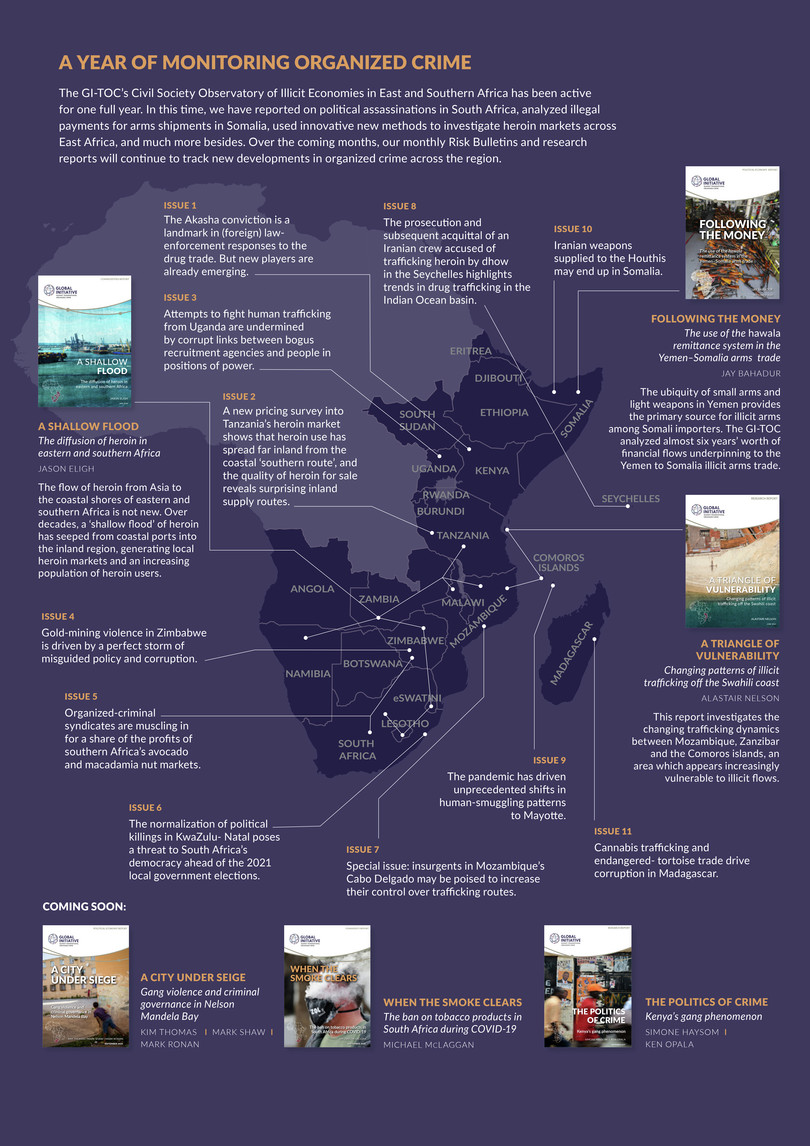 This 12th issue of the Risk Bulletin of Illicit Economies in Eastern and Southern Africa marks one full year in which our Observatory of Illicit Economies has been closely monitoring trends in organized crime and illegal trade across the region. In earlier iterations of this Bulletin, we have provided analysis of the conflict in northern Mozambique and how criminal markets have been implicated in this conflict; extensively monitored illegal drug markets across the region; and drawn attention to new ways in which organized crime activity is encroaching on legal trade and the rule of law, for example in markets for otherwise legal goods, such as fuel and agricultural products.
Our network of analysts and researchers are working on a range of upcoming research papers and conducting pricing studies for key commodities traded illegally across the region. The findings of our heroin pricing study have been published in the new report 'A shallow flood: The diffusion of heroin in eastern and southern Africa', and will be followed with studies on gold, charcoal, wildlife products and firearms, among others. Upcoming research papers will also focus on drug trafficking in the Indian Ocean island states, the relationships between gangs and political power in Kenya, and gang violence and criminal governance in Nelson Mandela Bay, South Africa.
Over the past year, the coronavirus pandemic has been the major global shift that has impacted on organized crime in the region. We have witnessed how gangs in South Africa and Kenya have grown more powerful in the chaos of lockdown restrictions, and documented how children have become more vulnerable to recruitment into gangs. Fear of the pandemic disrupted and even reversed decades-old human-smuggling routes between the Republic of the Comoros and Mayotte, in an unprecedented shift. The scramble for medical provisions opened up opportunities for the illegal diversion of medical donations and corrupt siphoning of funds earmarked for COVID-19 response.
Going forward, we will aim to continue and expand our coverage of organized crime across the region. In this issue, we report on four very different illegal markets, distinct in both the commodities and the geographies involved: from 'zama zamas' (illegal gold miners operating in South Africa), to violent and organized heists in Kenya's coffee industry. We also document the ongoing trend of cheetah trafficking via Somaliland, primarily to the Gulf States, and the emergence of Afghan-produced methamphetamine being trafficked along routes used for trafficking heroin.