Gold rush: How illicit gold from South Sudan and the Democratic Republic of Congo flows through Uganda.
Uganda is a regional hub for illicit gold smuggled from elsewhere in East Africa, for onward export to gold trade hubs such as the United Arab Emirates (UAE). Kampala and Entebbe attract significant volumes of gold from the Democratic Republic of Congo (DRC) and South Sudan, and smaller flows from Kenya.
As a result of this gold smuggling, Uganda's gold exports have grown exponentially since the 1990s and are now the highest in the region. Recent GI-TOC research into illicit gold in Uganda has used a variety of measures, from price monitoring, import and export data and field interviews, to help shed light on the hidden world of the illicit gold trade.
Uganda: a regional hub
Gold mining in Uganda is predominantly informal.1 An estimated 190 000 Ugandans employed by the artisanal and small-scale mining sector in Uganda produce about 90% of all minerals, including gold.2 Before a large-scale eviction in 2017, it was estimated that about 40 000 people were mining for gold in Mubende (in the south-west of the country) alone.3
But Uganda's domestic production is dwarfed by the amount of gold smuggled into the country from its neighbours, primarily the DRC and South Sudan. As one gold dealer explained, 'Most of the gold we get here [in Uganda] is in transit', and almost 95% of it is illicit.4 Once the smuggled gold arrives in Uganda, dealers claim it is of Ugandan origin, supported by fraudulent documentation which the authorities find difficult to disprove.
Uganda provides an attractive market environment for illicit gold due to the ease with which gold can be moved and traded, and because of the presence of many well-resourced buyers purchasing gold at competitive prices. Low export royalties also contribute to a larger profit margin. Insecurity in both eastern DRC and in South Sudan also makes Uganda an attractive destination for smuggled gold from those countries.
Source: Marcena Hunter, Illicit gold markets in East and southern Africa, GI-TOC, forthcoming.
The recent growth in these regional smuggling flows is reflected in the soaring value of Uganda's gold exports, most of which are sent to Dubai in the UAE, with some going to Mumbai and Antwerp.5 In 2019, Uganda exported gold worth US$1.25 billion, more than double what it had been the year before, and up from less than US$10 million a decade ago.6 And official export data is likely to understate actual gold exports because of smuggling and the under-declaration of gold exports, as highlighted by the discrepancy between Uganda's declared gold export figures and the UAE's reported import figures.7
The rise in Ugandan exports has been partly attributed to the recent increase in Uganda's refining capacity.8 The country now has seven registered gold refineries, which critics have pointed out far exceeds Uganda's actual production needs and raises questions about the provenance of gold being refined in the country.9 Kampala's refineries in particular are thought to be key nodes in regional illicit gold supply chains, connecting mines to international transit and destination hubs. Gold dealers in Kampala also reported that almost all the gold shops and companies in the city have agents with direct links to the large gold producers in eastern DRC.10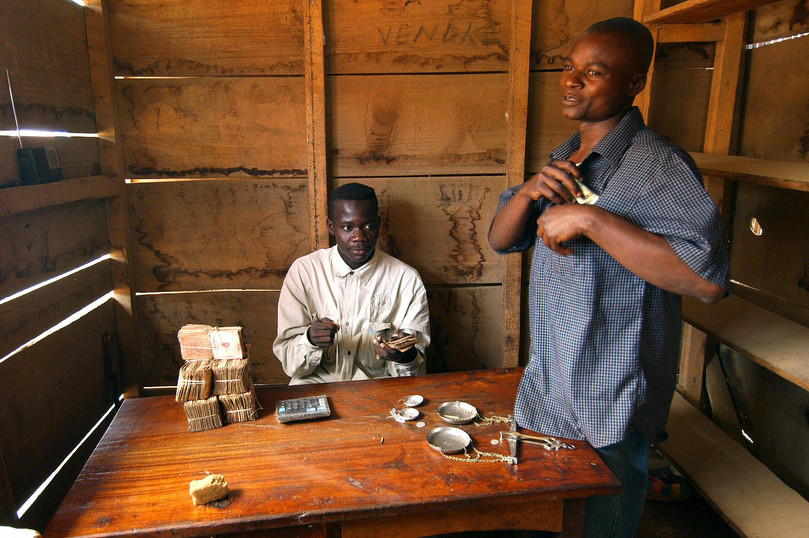 Photo: Eric Feferberg/AFP via Getty Images
Price monitoring in Uganda reflects gold smuggling routes
The GI-TOC conducted pricing surveys of gold markets across East and southern Africa between January and December 2020. The surveys found a wide variation in gold prices across Uganda. In Arua, a gold smuggling hub located in north-west Uganda, prices reflect what buyers have paid at mine sites or local towns in the DRC and South Sudan before the gold is smuggled into Uganda. Significantly higher prices were found in Kampala and Entebbe, reflecting the status of these two cities as regional export hubs.
Gold prices are not just a product of legitimate market forces but also are influenced by corruption, criminality and violence. Lower gold prices are more common in areas controlled by violent or corrupt actors – the presence of armed groups in eastern DRC, for example, is reported to significantly depress gold prices in that area.11
The coronavirus pandemic and subsequent lockdowns had varied impacts on Uganda's gold trade. In smuggling hubs such as Arua, buyers continued to buy Congolese gold, but sold it locally rather than making the trip to Kampala. However, lockdown appeared to have had little impact on the gold trade through the airport at Entebbe, where gold is often smuggled in bulk, carried by hand or made it into jewellery to be worn by passengers on flights to the UAE and India. Indeed, the pandemic helped create new smuggling methods, with cargo planes delivering COVID-19 aid and other essential supplies to Uganda becoming a popular way to smuggle gold to Dubai and other overseas markets. Overall, despite the pandemic, Uganda earned more than US$120 million from gold exports in March and April 2020, according to the country's central bank.12
NOTE: Prices collected at mine sites and in supply chain during GI-TOC fieldwork compared to the London Bullion Market Association price, a commonly used benchmark in the gold industry.
Source: Marcena Hunter, Illicit gold markets in East and southern Africa, GI-TOC, forthcoming.
Border towns
Our fieldwork in Arua in February 2020 provided an insight into the on-the-ground workings of the gold trade. Officially, there is no gold trade in Arua,13 yet large amounts of gold are known to flow through the town daily, and at least 10 shops – including vehicle and hardware shops – are widely known to be fronts for buyers trading in illicit gold.14 There are also reported to be two small, low-level gold refineries in Arua where the metal is processed for export.15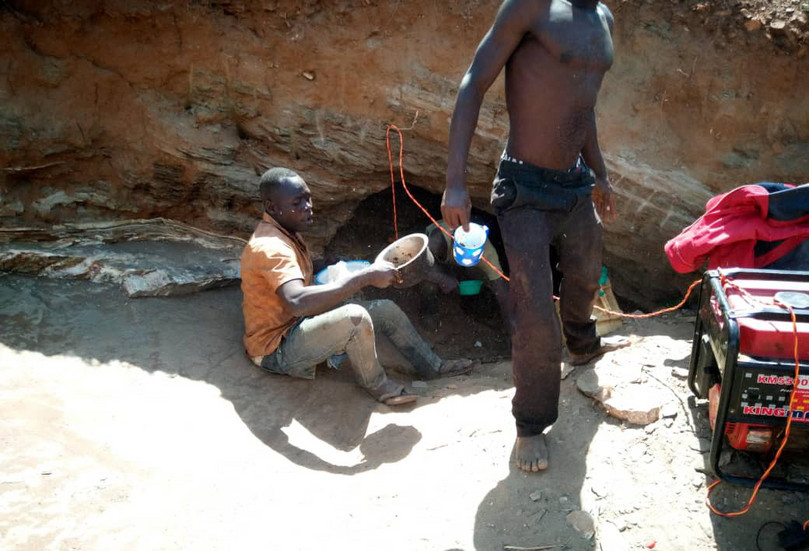 Ituri and Haut-Uélé provinces in eastern DRC are the main sources of the gold flowing through Arua. Gold dealers easily move gold from these provinces through Ariwara and Aru, two border towns in Ituri province in the DRC that flank Arua to the north and south, respectively. In these towns, the gold trade is a key livelihood, with the product openly hawked in both licensed and unlicensed shops.16 Influential businessmen and senior members of the Congolese military are said to facilitate and contribute to a free and open environment for illicit trade. However, the growth of the licit trade in these towns is constrained by insecurity, making Arua an attractive onward destination for smuggled gold.
Arua is also connected to the town of Yei, South Sudan, about two hours' drive north along the Kaya highway. A local taxi driver reported taking his clients to South Sudan to acquire gold and timber and the DRC for gold and other contraband.17 Gold coming from Yei, although smaller by volume, is reported to be purer than that from the DRC, increasing its value.18
From Arua, agents and middlemen transport most of the gold to dealers in Kampala, while a small amount is smuggled to Nairobi.19 Estimates of how much gold flows through Arua vary, but even the lowest figures are quite substantial. One local gold broker, for example, estimated that between 50 and 100 kilograms of gold transits through the town every day. One of the biggest buyers, an Indian national based in Kampala who owns an outlet in Arua, is thought to regularly buy about 10 kilograms of gold.20 Other buyers reported only buying a few hundred grams a month, although these figures could be lower because of the pandemic.
NOTE: Areas of mining activity are not exhaustive.
Source: Marcena Hunter, Illicit gold markets in East and southern Africa, Global Initiative Against Transnational Organized Crime, forthcoming.
Political involvement in the illegal gold trade
Ugandan political elites, including members of the Ugandan People's Defence Force (UPDF), are allegedly involved in the illicit gold trade.21 At higher levels, the illicit gold trade is thought to be facilitated by collusion with government officials in an arrangement described by some as a 'mafia-like business'.22 Dealers in Kampala say that almost all gold operations in Kampala have connections with the police and the military, who provide protection and security for smugglers.23
This makes the gold trade a risky business to enter without the right political connections and deep pockets.24 There have been reports of traders being targeted, and even killed, by police or military officers for their gold.25 Elements of the UPDF also reportedly use regular security missions into the DRC and South Sudan to hunt down rebels in order to buy and move gold into Uganda.26 They allegedly also connect gold traders with buyers in Kampala and help to smuggle gold out of the country through Entebbe.27 Gold smuggling out of Entebbe Airport is also reportedly facilitated by high-ranking people in the government.28
It is also suspected there are business links, including in gold trade, between South Sudanese and Ugandan military officials.29 South Sudanese generals own real estate in Arua and Kampala and have connections with Ugandan military officials, and it is suspected they cooperate with Ugandan counterparts and probably move freely through border checkpoints because of their official status.30
The high-level political protection of the illicit gold trade in Uganda makes it a difficult form of crime to monitor and investigate. However, as this piece has shown, by using a number of different metrics – including price monitoring and export data, as well as interviews – it is possible to see the role of Uganda as a regional hub and trace the trajectories of this rising illicit flow.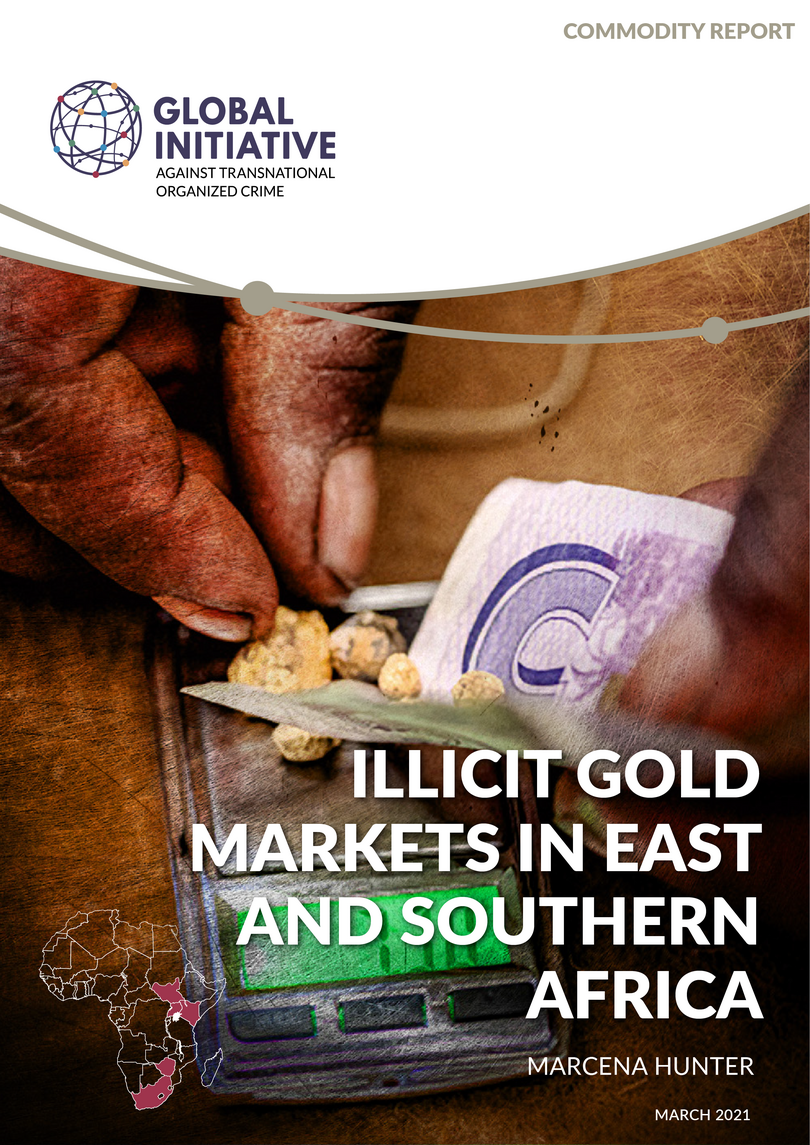 This article draws on 'Illicit gold markets in East and southern Africa', a new report by Marcena Hunter for the GI-TOC's Observatory of Illicit Economies in East and Southern Africa, forthcoming. The report investigates the illicit gold trade in South Sudan, Uganda, Kenya, Zimbabwe and South Africa.
Notes