Trafficking of high-calibre firearms is fuelling deadly violence in Bawku, northern Ghana.
In April 2023, gunmen shot at a private vehicle carrying three uniformed immigration officers near the police station in Bawku, a town in northern Ghana on the border with Burkina Faso.1 One person was killed and two others wounded. The armed men, believed to be youth from the Kusasi ethnic group, attempted to stop the vehicle, which they suspected was carrying a rival chief to Bawku, for inspection; the officers ignored them.2 They then opened fire on the vehicle.
The protracted conflict between the Mamprusi and Kusasi groups began in Bawku in the 20th century, stemming from a dispute over the town's chieftaincy. After a long period of relative peace, the conflict flared up again in November 2021 as members of the two tribes engaged in violent clashes. Rumours circulated that the Mamprusi were planning to perform the final funeral rites for their last chief, and this reignited the violence. The new chief's accession traditionally comes after his predecessor's funeral, so any talk of the funeral was seen as an indication that the Mamprusi were plotting to install their own chief to the role, in place of the current (government-recognized) Kusasi chief.3
Since 2021, an increased flow of weapons from abroad, predominantly Burkina Faso, has significantly contributed to higher levels of violence in Bawku, which is taking a toll on civilians.4 In contrast to earlier phases of this conflict, when small arms were mainly deployed, over the past year and a half, high-calibre arms and ammunitions have triggered deadlier violence, contributing to the death of over 260 people in the Bawku area.5
Civilians increasingly under fire
While the conflict in Bawku may have started as clashes between armed members of the Mamprusi and Kusasi, since March 2022, civilians in the area have been increasingly bearing the brunt of the violence (see Figure 2). According to data from the Armed Conflict Location and Event Data project, of the 26 incidents of political violence in Bawku recorded since November 2021, 13 were acts of violence targeting civilians.6
From 5 September 2022 to 8 February 2023, over 29 people were reportedly killed by armed men in 12 incidents of banditry, robbery and reprisal attacks on roads in the Upper east and Northeast regions (all major national trading and commuting routes leading to the border crossings between Ghana and Burkina Faso and Togo). Several other incidents have been reported since. In Bawku, areas around the Bawku Senior High School, highway transport station and the police station have been hotspots for armed attacks.7
On 17 April 2023, a Mamprusi man was shot dead near the school; his companion was rescued by state security personnel. The survivor spoke about his ordeal: 'They nearly shot me, but for an oncoming vehicle that intervened. I ran into the bush near the school and hid for about 40 minutes until the police arrived. They are wicked.'8
Demand for weapons surges
In Bawku, gun ownership has long been popular, in line with trends across northern Ghana, and to a lesser extent the country as a whole. Data from the Small Arms Survey showed that as of 2017, 2.3 million small arms were in the hands of civilians in Ghana, of which almost half were thought to be unregistered.9
Guns are employed for various purposes, not least in the context of the ongoing chieftaincy issues but also other related issues such as natural resource and land disputes, retaliatory attacks and banditry. The Bawku police posit that there is a culture of gun ownership that contributes to the high levels of demand for weapons.10 However, since the conflict reignited in 2021, and as civilians became increasingly caught in the crossfire, there has been a surge in demand for weapons, as many residents of the town and surrounding areas feel compelled to arm themselves for their own protection.
Demand is also driven by the growing number of youth groups, organized along ethnic lines, created to protect their communities.11 Teenagers as young as 14 have joined these groups and are praised for their bravery in doing so, highlighting a degree of community support for these self-defence groups.12 These groups, made up along ethnic lines, operate in marketplaces and lorry parks, as well as the outskirts of Bawku.13 As of April 2023, the number of self-defence groups operating in Bawku was estimated at 23.14 While these groups have always existed, their numbers have materially increased, with the escalation of the conflict over the past two years driving their proliferation.
Many civilians and vigilante group members turn to the illicit market to arm themselves, where gun prices are usually lower than in the licit market, as a significant number of guns are second-hand and smuggled.15 But the increasing demand for high-calibre weapons, as opposed to locally made artisanal guns, combined with a depreciating currency, are likely to have contributed to increased prices of arms and ammunition.16 Guns are considered to be expensive, and as rampant inflation since 2022 has contributed to growing cost of living challenges, they are likely to become even less affordable for many.
One traditional leader in Bawku explained that communities are doing whatever it takes to protect themselves, often at great cost: 'We will not allow ourselves to cower before them. We will sacrifice all we have to buy guns to protect ourselves. About seven people have died in my community since August 2022 [until March 2023].'17 Given that the predominant economic activities of the residents of Bawku are farming, and cattle rearing and trade, those who cannot afford firearms sell cattle or family farmland to buy them.18
Residents in Bawku concur that gun use is rising; gunfire, they say, is a more regular occurrence. Not only does the number of weapons in circulation appear to have increased, but since 2021, the kinds of weapons used in the Bawku conflict have also shifted. Today, the firearms are as sophisticated as those used by the police. The armed groups also appear to be well trained in the use of those weapons.19
Businessowners also reportedly finance the purchase of high-calibre arms on behalf of their ethnic groups.20 By inciting and facilitating clashes between armed groups, those with a vested interest in the local economy have been able to block access to the main market, controlled by Mamprusi, driving locals to the highway transport market instead, which is controlled by Kusasi businesspeople (see Figure 1).21 This appears to have been the result of a strategy on the part of the Kusasi seeking to impose an economic embargo on the Mamprusi-dominated town centre.22
Tracking supply
According to the 2021 Organised Crime Index Africa, an expert-led assessment measuring levels of organised crime in Africa, Ghana's arms trafficking market has a moderate but increasing influence across the country as a whole.23 At a subnational level, of the 16 illicit hubs in Ghana identified by the GI-TOC as part of the West Africa illicit hub mapping initiative, the illicit arms trade was identified as a major market in half of them.24
These include the country's second-largest city, Kumasi, where Suame Magazine area is located, an industrialized zone known for its workshops and vehicle repair shops. It is also one of Ghana's most established gun-manufacturing centres, where skilled craftsmen have facilitated the proliferation of high-quality weapons. Other arms trafficking hubs in Ghana include Tamale, another major artisanal weapon manufacturing hub, and Bawku, which has long operated as a cross-border smuggling hub.25
These 'gun hubs' illustrate the three main sources supplying weapons to meet demand in Bawku: artisanal manufacture, leakage from official weapon stocks and smuggling networks moving weapons from elsewhere in the country or the region. This is reflected in the seizures of weapons: between November 2021 and June 2022, at least 23 people were arrested for illegal possession of firearms and ammunition in or around Bawku.26 Among the seizures made following the arrests were AK-47 assault rifles, ammunition for a wide range of other guns and foreign pistols, and locally manufactured pistols.
Artisanal production of weapons is particularly concentrated in the north of the country, where numerous protracted local chieftaincy conflicts have spurred demand for weapons. A significant number of blacksmiths in Bawku are believed to possess expertise in manufacturing weapons and repairing imported firearms. However, due to frequent and targeted law enforcement operations, arms manufacturing and repair activities are conducted sparingly, and workshops tend to be discreetly situated. Moreover, the sale of weapons involves trusted agents exclusively, serving as intermediaries.27
High-calibre arms and ammunitions are filched from police and military armouries, aided by corruption, while some local blacksmiths also supply the illicit arms market. Local media have reported a recent uptick in the number of police guns lost or stolen.28 There have also been incidents of ambushes targeting state security forces who are officially assigned to patrol unauthorized routes. These attacks are reportedly carried out by bandits and self-defence groups with the intention of acquiring the weapons possessed by these forces.29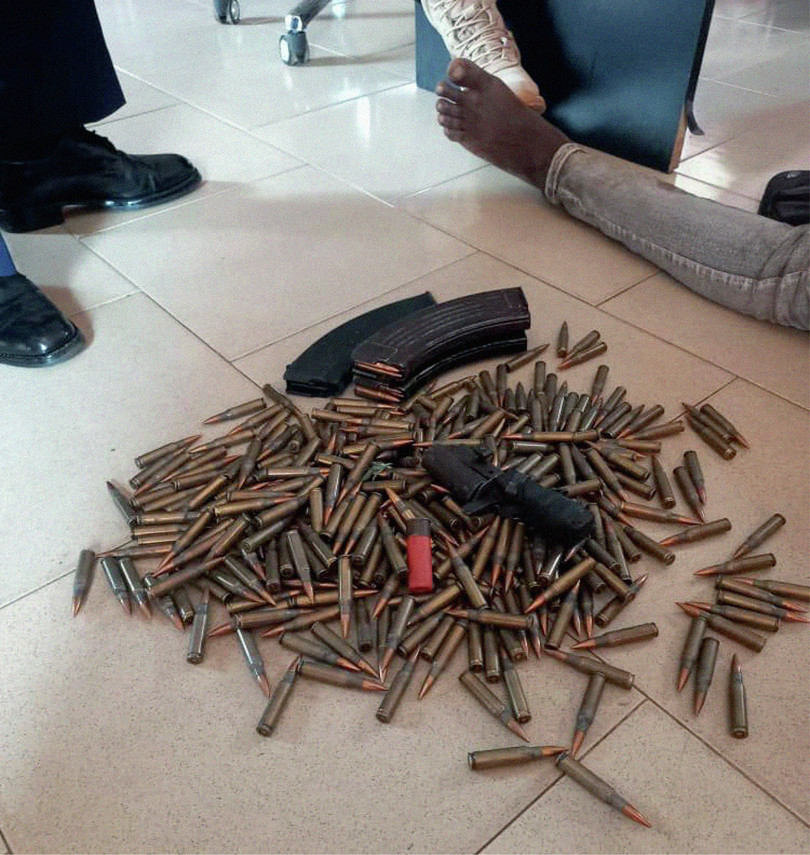 Most weapons smuggled into Bawku enter Ghana by land, largely through the country's porous northern and eastern borders.30 According to data from the West Africa Network for Peacebuilding, in 2019 there were 44 official migration entry points in Ghana; in reality, there were over 189 unofficial entry points on the Burkina Faso border alone.31 Arms and ammunition purchased in Burkina Faso (allegedly from suspected violent extremists) are trafficked across the border into Bawku.32 They are concealed in vehicles, in cargo loads and transported by trucks across official border crossing points. Others enter through unofficial border crossing points, primarily by motorcycles that travel through the bushland.33
In April 2022, a communication from police headquarters confirmed that arms were smuggled from Burkina Faso to the Bawku conflict. It also confirmed the involvement of Burkinabé fighters from the province of Boulgou in the armed conflict. However, the police confirmed that there were no proven links between the fighters and 'terrorist cells', instead suggesting that their involvement in the gun battles may have been motivated by ethnic ties and financial interests.34
In addition to arms flows from Burkina Faso, conflict actors in Bawku have, since the beginning of the conflict in 2021, increasingly used pre-existing trafficking routes from Niger, Mali, Côte d'Ivoire and Libya to import high-calibre arms and ammunitions. Reports indicate that returnees with established contacts in Libya continue to receive arms supplies in Bawku.35 There have also been reported instances of high-calibre arms and ammunition imported through the Ghana's largest seaport, Tema, from Turkey and the United States.36
Looking ahead
The chieftaincy dispute at the root of the conflict in Bawku has catalyzed a cycle of deadly violence, fuelled by an influx of sophisticated, high-calibre weapons. With civilians increasingly being targeted, demand for weapons has soared. But while the two warring factions have been at the heart of the violence in Bawku, fuel has been added to the fire not only by commercial interests, but by the local political context too. Not only do some Kusasi and Mamprusi – who are politically aligned to the two main political parties, the National Democratic Congress and New Patriotic Party, respectively – exploit their ethnic base to mobilize support for their respective political partners, but political actors are also thought to be linked to the supply of arms to members of warring factions.37 A further escalation of violence in the run-up to the 2024 elections, therefore, is an all-too-real risk.
Notes