Death and forced labour at sea as Chinese fishing trawlers pillage northern Somalia.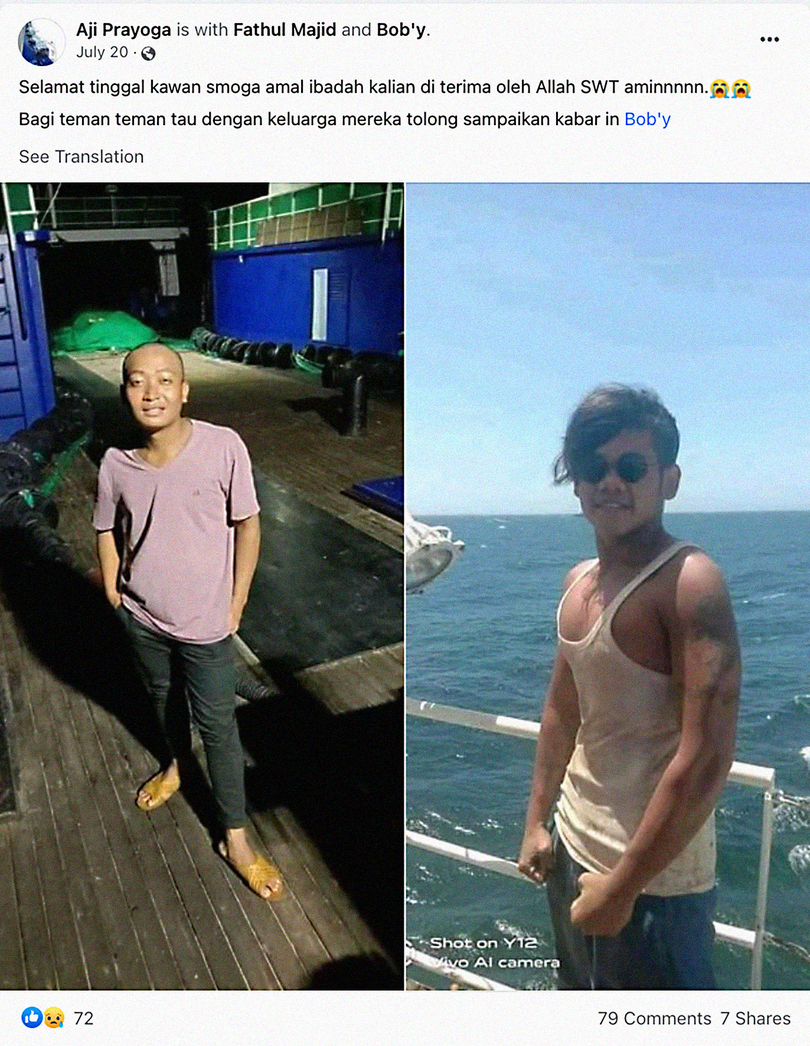 On 19 July 2021, the chains holding a net in place on board the fishing trawler Liao Dong Yu 571 snapped, striking and killing two Indonesian members of the crew.1 One fisherman died aboard the vessel, while the second was knocked overboard; his body was never recovered. It was not the first reported instance of a crewmember dying aboard a Liao Dong Yu vessel. In a similar incident a year earlier, a Chinese crewmember was killed when a dislodged fishing net swept him overboard.2 His body was recovered within hours and initially stored in a freezer unit, but was allegedly later dumped at sea rather than returned to his family.3
The Liao Dong Yu fleet is operated by a Chinese company, Liaoning Daping Fishery Group, based in the port of Dandong. According to the NGO Destructive Fishing Watch Indonesia, 35 Indonesian crewmembers died while working on foreign fishing vessels between November 2019 and March 2021.4 Over 80 per cent of these deaths reportedly occurred on board Chinese fishing vessels.5
At the time of the fatal July 2021 incident, the Liao Dong Yu fleet had been fishing in the proximity of Bandarbeyla, a town on the eastern coast of Puntland, a semi-autonomous region in northern Somalia. The GI-TOC briefly noted the Somali operations of the Liao Dong Yu fleet in a July 2021 research report detailing the corruption of state institutions in Somalia by illegal, unreported and unregulated (IUU) fishing networks.6 However, since the publication of that report, the GI-TOC has become aware of a wider range of allegations involving the Liao Dong Yu vessels, including forced-labour practices, operating without valid fishing licences, deploying prohibited gear, fishing restricted species and additional violations of Somali law. Furthermore, the GI-TOC has uncovered evidence that the illicit operations of the Liao Dong Yu fleet have been facilitated by an individual situated at the very top of the Puntland business and political elite.
Running dark
Liao Dong Yu vessels have been routinely present in Somali waters since at least early 2020. It is difficult to precisely assess the full extent of the vessels' activities, as they often switch off their AIS transponders, a practice known as 'running dark'.7 None of the Liao Dong Yu vessels are registered with the International Maritime Organization, which makes monitoring their movements more difficult.
However, satellite imagery analysis by the human-rights NGO International Justice Mission found as many as 12 Liao Dong Yu trawlers active in Puntland waters since October 2020.8 Satellite imagery has also confirmed that the vessels routinely operate close to shore, in violation of Somali fisheries law.
An internal report by the non-profit organization Environmental Justice Foundation, seen by the GI-TOC, assessed that the Liao Dong Yu fleet may have committed as many as 20 distinct violations of Somali and Chinese fishing laws and regulations.9 Among the alleged violations of Somali law were fishing without valid licences, operating within the 24-nautical-mile zone reserved for local fishermen, and the fishing of restricted species, including leatherback turtles, bottlenose dolphins and whale sharks.10 Crucially, the fleet appears to have been engaged in bottom trawling, which is prohibited under both Somali federal and Puntland law.11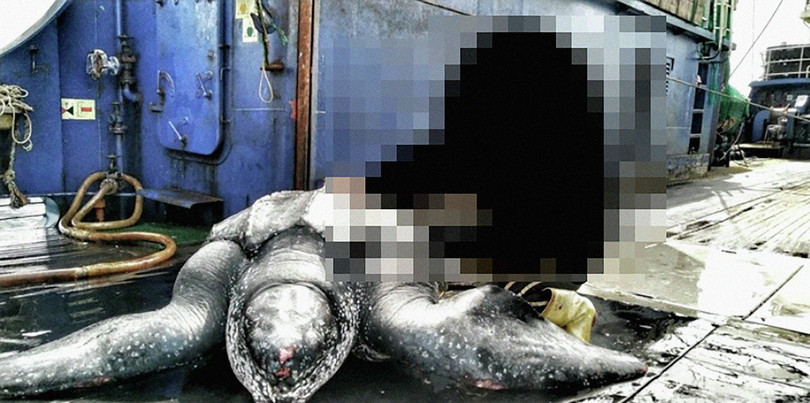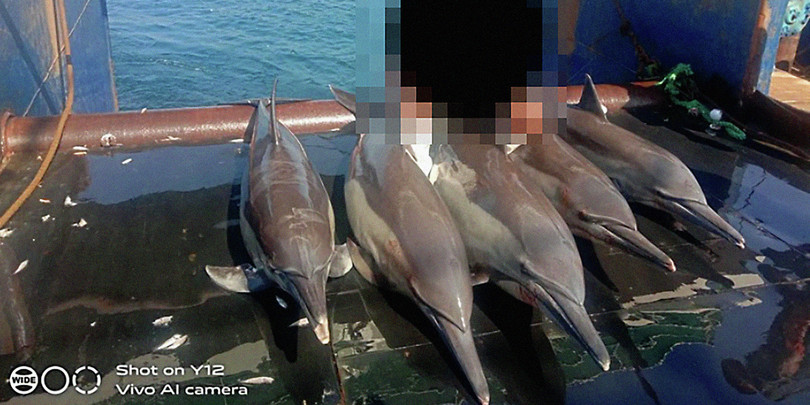 Photo: Social media/Environmental Justice Foundation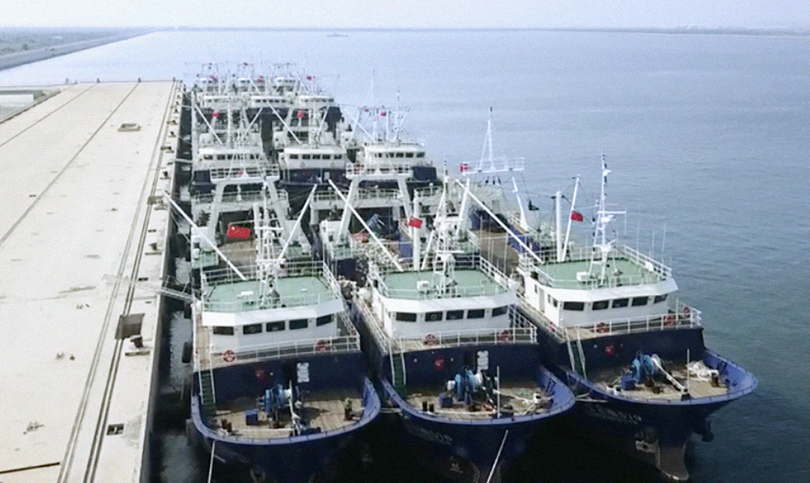 Photo: Liaoning Daping Fishery Group corporate website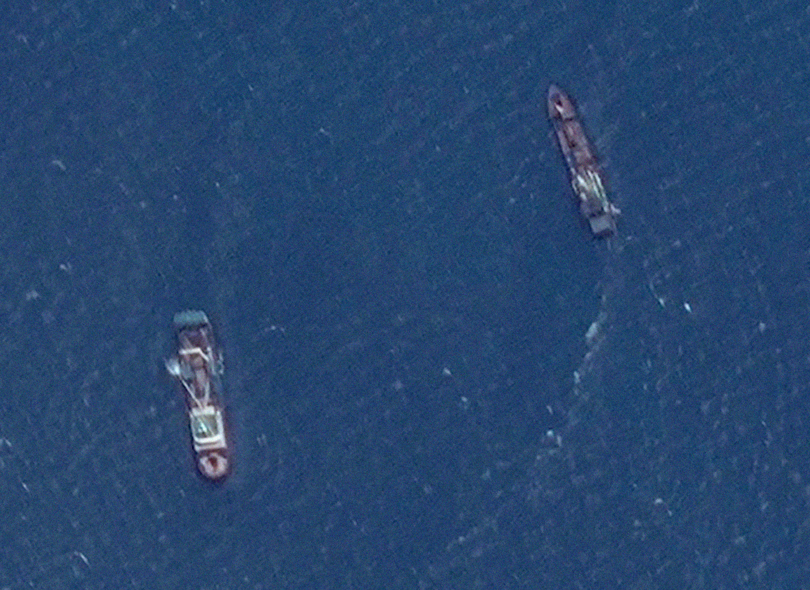 Photo: International Justice Mission/Maxar Technologies
No valid licences
Somalia is in the midst of a three-decade-long civil war. State authority has fractured along clan and geographical lines and the country currently is made up of five semi-autonomous federal member states overseen by a weak federal government in the capital, Mogadishu. The federal government and its constituent member states have long struggled to agree on a resource-sharing framework that would clarify their respective commercial rights and obligations.
By March 2019, however, they had reached a provisional agreement on the issuing of fishing licences and sharing of fisheries revenue. Under its terms, the federal government issues licences beyond a 24-nautical-mile limit from shore, while the management of marine resources within this limit devolves to the member states. No foreign fishing vessel is permitted to fish within the 24-nautical-mile limit, which is reserved for domestic use. In effect, the agreement limits federal member states to issue licences exclusively to local fishers.
The Puntland government, however, has routinely violated this agreement by issuing licences to foreign vessels, including dozens of environmentally destructive Iranian gillnetters.12 As the GI-TOC previously reported, a long-standing network of local agents and fixers in Puntland facilitates access to licences, supplies and armed security for foreign fishing vessels.13
Since the operator of the Liao Dong Yu fleet, Liaoning Daping Fishery Group, is a foreign company, valid licences for the vessels would have had to be issued by the federal government. Yet, at the time of writing, no Liao Dong Yu vessel has been licensed by the federal Ministry of Fisheries and Marine Resources.14 Contrary to Somali law, the Liao Dong Yu fleet appears to have obtained fishing licences through Puntland authorities. Furthermore, they were apparently procured through irregular channels.
Connected to the very top of the Puntland elite
In addition to its alleged violations of Somali fisheries law, Liaoning Daping Fishery Group also appears to have circumvented Puntland's internal regulations. A source within the Puntland Ministry of Fisheries and Marine Resources told the GI-TOC, on condition of anonymity, that the licences for the Liao Dong Yu vessels had not been issued through the ministry, as is proper practice, but through central authorities in Puntland's capital, Garowe.15 Nor were the licence fees themselves paid to the fisheries ministry.16 Thirdly, the licenses issued to the vessels were valid for over one year, far longer than the standard three-month duration.17 The fisheries official summarized the Puntland administration's arrangement with the vessels as 'daylight robbery'.18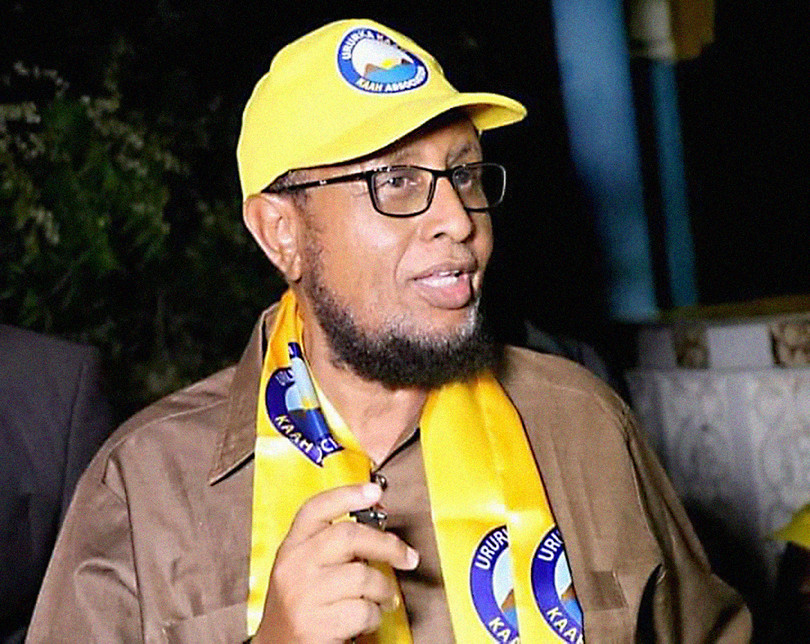 The irregular issuing of fishing licences might be explained by Liaoning Daping's apparent links to the very top of the Puntland business and political elite. According to multiple GI-TOC sources, approvals for the Liao Dong Yu vessels to fish in Puntland were secured through Dahir Ayanle Said, a prominent local businessperson, politician and close ally of Puntland President Said Abdullahi Deni.19 Ayanle is one of 11 senators representing Puntland in the federal parliament of Somalia; he was elected unopposed by Puntland's regional assembly in August 2021 after his only opponent withdrew from the race.20 The candidature of each senatorial hopeful had required the prior approval of President Deni.
The GI-TOC received independent evidence corroborating Ayanle's connections to Liaoning Daping Fishery Group. Documents obtained by the GI-TOC demonstrated that, between May and September 2021, Ayanle had multiple communications with a representative of Liaoning Daping who identified herself as 'Lily'. Ayanle declined the GI-TOC's request for comment, stating that any questions about the Liao Dong Yu fleet should be directed to the Puntland and Somali federal governments.21 President Deni and the Puntland Ministry of Fisheries and Marine Resources did not respond to requests for comment.
Labour and human rights abuses
The Liao Dong Yu fishing fleet has been the subject of a litany of labour and human rights abuse claims that have been widely reported in the international press. In one case, at least 13 Liao Dong Yu crewmembers reportedly had their passports withheld22 and were forced to continue working, despite their labour contracts having expired in December 2020.23 One of these crewmembers claimed that he and his colleagues had subsequently worked for months without pay, been deprived of food and sleep, and suffered physical abuse at the hands of their captain.24
The 13 crewmembers were originally serving across four vessels (Liao Dong Yu 571, 572, 575 and 577), but were later transferred to the Liao Dong Yu 535, a small carrier vessel accompanying the trawlers.25 On 15 August 2021, four crewmembers attempted to escape by jumping overboard and swimming to the Somali shore.26 Three of the men were tracked down and brought back on board, and the fourth is believed to have drowned.27
Over the course of their ordeal, members of the crew managed to alert their families and publicize their plight through Facebook. The resulting pressure from the Indonesian government and several non-profit organizations led to the repatriation of the 12 surviving crewmembers by the end of August 2021.28
A questionable history in Somalia
The Liao Dong Yu fleet was first fingered for fishing without legitimate licences in Somalia in early 2020, over a year before the labour and human rights abuses described above came to light. In May 2020, the federal Ministry of Fisheries and Marine Resources lodged a strongly worded protest with the Chinese embassy in Mogadishu concerning the IUU fishing activities of six Liao Dong Yu vessels, following which the fleet temporarily retreated from Somali waters.29 A senior official at the fisheries ministry told the GI-TOC that Liao Dong Yu vessels had been illegally operating in Somalia since 2019, and that the ministry had urged the newly appointed Chinese ambassador to Somalia to take action against the vessels during a meeting in late 2021.30 When asked if any action had been taken against the vessels or their parent company, the Chinese embassy in Somalia told the GI-TOC that the Chinese government strictly supervises overseas fishing companies and requires them to adhere to local laws.31 They further stated that the status of the Liao Dong Yu vessels was an internal affair of the Somali government.32
Liaoning Daping Fishery Group, the operator of the Liao Dong Yu fleet, had made initial forays into Somalia long before 2019. In 2015, its affiliate, Doggang Daping Enterprises Group, had tried to obtain a highly favourable fishing concession from the federal government. A draft contract obtained at the time by UN sanctions monitors stipulated that Doggang Daping would receive a seven-year sole authorization to fish within Somalia's exclusive economic zone and be allowed to bring its own armed security on board its fishing vessels, which would have violated the UN arms embargo on Somalia.33 However, the agreement did not advance past the preliminary stages.34
The Liaoning Daping Fishery Group did not respond to the GI-TOC's requests for comment on any of the allegations detailed above.
Disrupt IUU fishing networks on land
The Liao Dong Yu fleet continues to operate in Somalia: as recently as 27 October 2021, satellite imagery showed 11 trawlers fishing in Puntland waters south of Hafun.35 In the past, when IUU fishing operations in Puntland have been exposed, their local agents have sought to co-opt allies within federal government institutions. This has often resulted in licences or other documentation being issued to confer post-hoc legality on the illicit operations.36 The Somali federal government should forestall this possibility by publicly declaring the illegal status of the Liao Dong Yu vessels. An official complaint could also be made to Interpol.37 The Somali government should also offer bilateral assistance to Indonesian authorities in bringing justice to the crewmembers who suffered abuse and unpaid wages on Liao Dong Yu vessels.
Secondly, action might be taken by national authorities in the destination markets for the vessels' catches. According to the Liaoning Daping corporate website, the company exports its products to several developed economies, including Japan, South Korea, Singapore, the United States and the European Union.38
Foreign fishing in Somali waters is a highly emotive issue domestically. Somali political elites often attempt to tap into widespread local frustrations over the perceived theft of Somalia's maritime resources by predatory foreign companies. Most recently, the federal attorney-general declared that illegal fishing in Somalia was a 'natural disaster' and threatened punitive measures against foreign vessels flouting Somali law.39 Yet foreign fishing fleets rarely operate in Somalia without the collusion of local elites. If Somali authorities are sincere about disrupting IUU fishing networks, they should seek to identify and hold accountable the agents, businesspeople and corrupt government officials who facilitate illicit operations of foreign fishing interests. Tackling criminal networks on land may be the key to the long-term conservation of Somalia's marine resources.
Notes